ⓘ We are reader-supported and may earn a small commission at no additional cost to you if a purchase is made through one of our links.
In this Ting Wireless Earbuds Review, you'll find how this type of earbuds is far different from the rest. Indeed, as voiced by many promising backers, there have been quite a lot of earbuds that went and came over the years but only a few stuck through.
Ting is dubbed as "the world's most compact premium TWS earbuds" and this review will dive deeper into its specs and features. Since Apple released its very own wireless earbuds, the competition has heightened. Different designs and earbud structure were introduced into the market but only a few lived up to its competence.
The Ting Wireless Earbuds could be seen as a game-changer for its metal capsule casing alone. Not only does it present a sleeker design, but its metal material also helps its audio driver produce "crisper, tighter and punchier" sound compared to plastic-made earbuds.
If you don't have time to read the full review, click on the links below to skip to that section.
Overview
The Ting Wireless Earbuds is for the people who would want to get their money's worth when investing in technologies like this. This product offers what many can't — compactness and premium performance.
The trend on earbuds design today is they are either very bulky or too much like a copy of Apple's AirPods design. Ting Wireless Earbuds is a design trend of its own—having a greatly crafted metal matte texture.
Aside from that, it embodies a premium performance that even gives users up to 30 hours of playback time. Because metal is denser than plastic, Ting's metal casing allows its audio driver to perform better.
Ting is offered at a very reasonable selling price while having premium aesthetic and sound quality.
Features
One of the great features of this TWS earbuds is its independent connectivity. It means that users won't experience great inconvenience when one of the buds runs out of battery. With its cutting edge TruWireless Mirroring Technology, each earbud can keep the task going seamlessly, even without the other. It eliminates the scenarios of sudden interruption due to having a low battery.
Another great feature of Ting is its intelligent touch control. Some wireless earbuds only perform the basic function — to relay sound from your phone and record your voice. But all other functions still need to be done on your phone.
The Ting Wireless Earbuds has a highly responsive touch control panel that allows users to either play or pause music, reduce or increase volume, and even calling on its phone's voice assistant such as Siri, Google or Alexa. All of which can be done without pulling out your phone.
With a single press on either earbud, users can answer an incoming call. Aside from that, a single press can also play or pause music, while a double touch allows users to skip to the next song. To go back to a previous song, users will need to tap thrice.
Ting also carry, on each earbud, dual mics and built-in noise-cancelling technology chipset. This means that it effectively filters out noises from the users' surrounding. Its external mics can cancel out unwanted noises up to 30dB in real-time.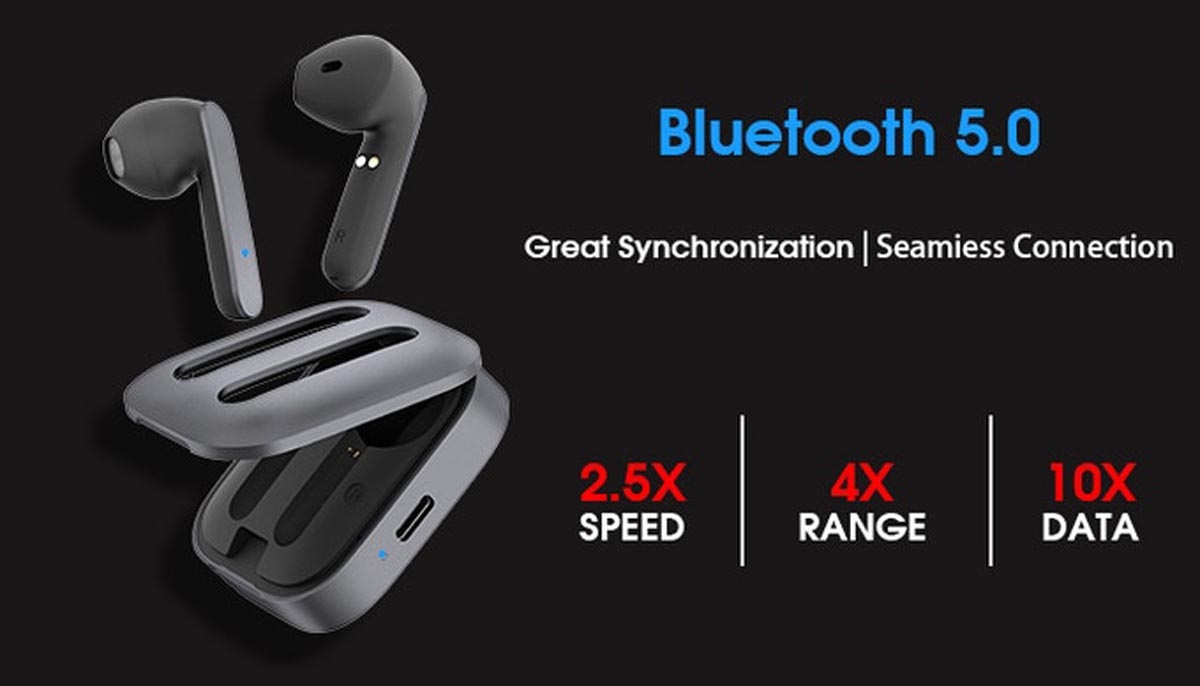 Specs
Despite its sleek and compact design, the sound quality on Ting's hardware is not compromised. The Ting Wireless Earbuds carries a 13mm dynamic driver on each pair. It offers the high-definition sound quality, with powerful bass and, not to mention, balanced mid frequencies — a premium experience for mid-priced TWS earbuds.
Furthermore, this product also comes with Bluetooth 5.0—the latest version of the Bluetooth wireless communication standard. This means it transfers data faster with lower energy consumption. It also embodies intelligent detection. This means that it automatically pauses the music when the earbuds are taken off from the users' ear and intelligently turns of Bluetooth connectivity when put back to its capsule for charging.
The Ting Wireless Earbuds can last up to 70 hours on standby. While on use, it can work up to 6 hours of playback and 5.5 hours worth of phone conversation. Meanwhile, its compacted charging capsule carries 300mAh, giving users a maximum of 30 hours of playtime.
Aesthetics
Typically, earbuds are mostly made with plastics. Over time, this type of design get worn out or easily scratched. But because Ting is built with a metal hollow design, it introduces a whole new generation of earbuds aesthetics.
With its next-gen compactness, the Ting Wireless Earbuds removes one of the common problems experienced by the public, the bulkiness and the feeling of uneasiness to the ears.
The product is designed to ergonomically fit into the users' ears. Others may feel that wireless earbuds are too big or bulky to the ears. Some even have rubber or silicon buds that squeeze into the entry of your ear canal, giving a very uncomfortable experience. Which is why many specifically look for products that aren't "too bulky" to the ears.
With the Ting Wireless Earbuds, it is designed ergonomically to stay securely fit on users' ears no matter what activity they are performing such jogging, travelling, community, or even when working out—eliminating the fear of the earbuds somehow falling off.
What's it like to use?
Another great feature of the Ting Wireless Earbuds is that it is very easy to pair. It doesn't need a lengthy instruction manual. It is as easy as taking the earbuds off from the capsule, turning on the Bluetooth connectivity on your phone, and as simple as tapping your screen to pair.
Final Thoughts
The Ting Wireless Earbuds is most definitely a game-changer. It offers a premium experience for a mid-range price tag. Its compacted design, including the capsule, is its biggest strength. Its sleek style can turn around its users' whole look.  The specs and features are of high-quality as well, ensuring its promising buyers that the Ting Earbuds is worth the purchase.