ⓘ We are reader-supported and may earn a small commission at no additional cost to you if a purchase is made through one of our links.
Measurements are a big part of people's lives. We measure the dimension of a room and the furniture we plan on buying. The most important aspect of measuring is the accuracy of the measurements itself and then recording the measurements. Now, if measurements are so important, why have been there so little innovations with it?
Let's find the answer to this question with our review of one of the products that aimed to help people measure better and faster: the Bagel Tape Measure.  Bagel Labs, which is a startup tech company in Seoul, South Korea, and the makers of Bagel Tape Measure, marketed and promoted the product on Kickstarter and Indiegogo as "Bagel: The World's Smartest Tape Measure." But is it? Find out with this Bagel Tape Measure review. Don't have time to read the whole thing? Click on any of the links below to skip to that section of the review.
Overview
Bagel Labs' tape measure aims very high, promising to be the only tape measure you will ever need. With its three different modes, it can help you measure body size, curved objects, flat surfaces, and distances. But more than that, it can save your measurements, record voice memos, and send all this information to your phone via Bluetooth.
It's also designed to work with an application where you can organize and analyze data. Thus, earning its name the "Smart Tape Measure."  This device turns your measurements into digital data, so you can access them through your phone. Meaning, you won't have a hard time trying to read tiny numbers and markings on a regular tape measure.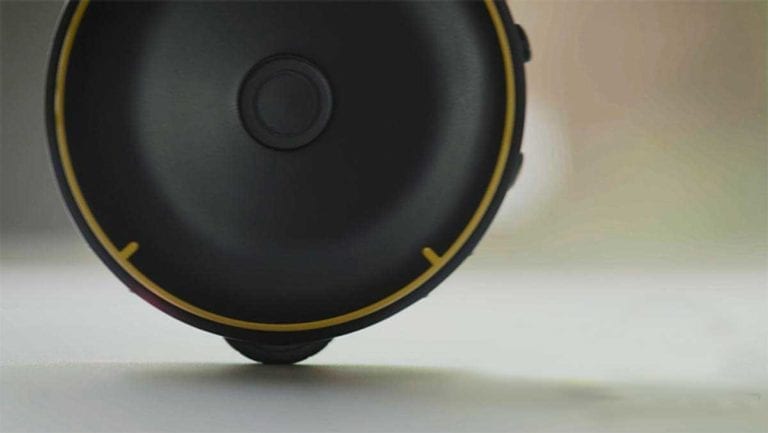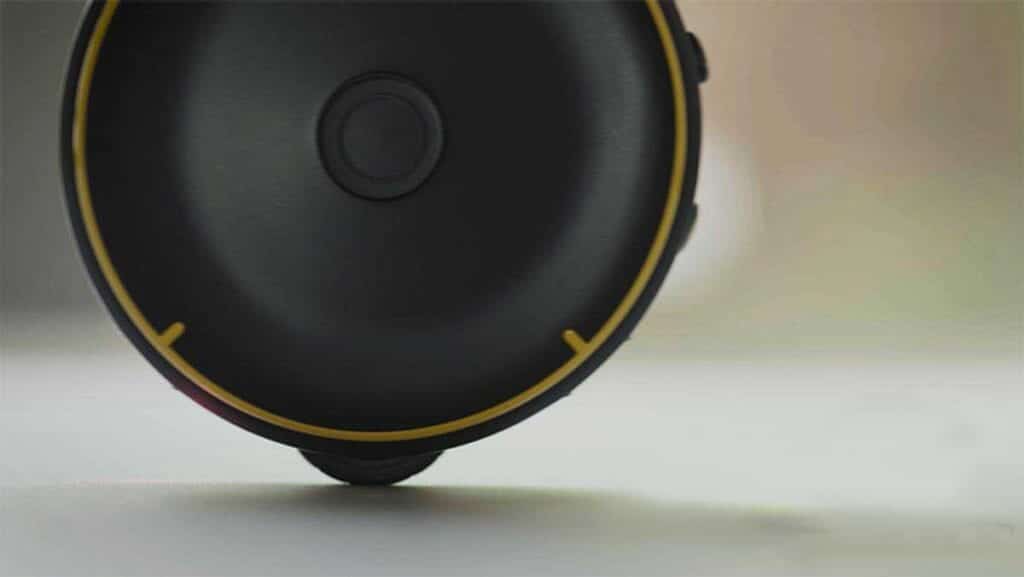 Overall, the idea behind the product is pretty great, which is why it's not surprising that by the end of its campaign on both Kickstarter and Indiegogo, it raised a whopping US$1,911,713.  The Bagel Measuring Tape price was US$72 on Indiegogo and US$79 on Kickstarter.
Compared to other devices, like the RENPHO Smart Tape Measure (sold at US$29.99), it's more expensive. But it's understandable since the Bagel does offer other features that the RENPHO don't.
Plus, it looks sleeker and cooler too. However, Bagel is also a lot costlier than the Ontel Measure King (sold at US$29.99), which is a very similar product with the same functions but without the application and Bluetooth connectivity.
Different Modes
The Bagel Digital Tape Measure has three different modes, which the Ontel Measure King also has. Let's look at each of them closer below.
String Mode
The Bagel's string mode is similar to your traditional tape measure. You simply need to pull the string out to measure the length. However, instead of a tape with numbers and markings, Bagel uses a flexible yet strong string that you can easily wrap around curved objects and surfaces. Of course, you can also use it on flat surfaces.
Wheel Mode
If either of your hands is not available to use the string mode, you can switch to the wheel mode to take distances or lengths. You simply have to roll the device on its wheel and you're done. You can measure distances of up to 33 feet or 10 meters. This is particularly helpful in curved and irregular objects.
Remote Mode
Sometimes, there are distances that are just difficult to reach and measure. This is what the Bagel tape measure aims to address with its remote mode. With it, you can point the laser to an object or wall and the device will tell you how far they are from your spot. This mode can measure up to 16 feet and 4 inches or 5 meters.
Data Saving and Voice Memos
One of the best features of the Bagel Tape Measure is its ability to store data and voice memos. So when measuring, you can simply click the center button to save it. You can also record a voice memo to describe what you measured. It has internal memory and can save up to 100 measurements and voice memos. This also allows you to use the device even without your phone.
Accuracy
Accuracy is the most important feature of a measuring device. To achieve this, the company developed a sensor specifically for the Bagel Tape Measure. It is said to have an error margin of 0.5% under room temperature conditions for all 3 modes.  However, according to people who have tried the product, this is not the case. The device was said to be so inaccurate that some users noted the measurements were off by 20 cm – which is not small by any means.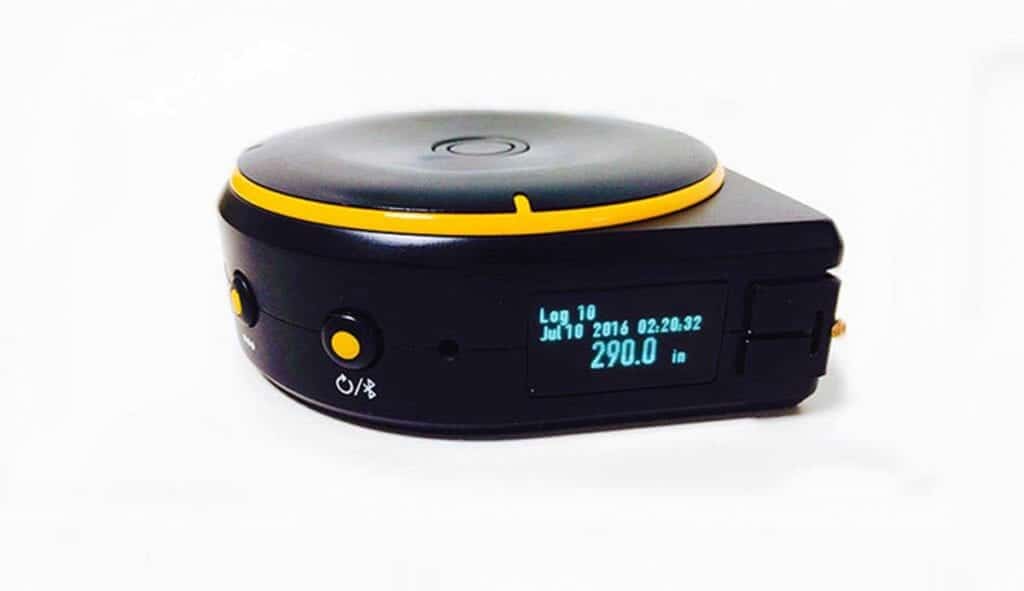 Specs
Based on the product's Kickstarter campaign, here are Bagel Labs' Smart Tape Measure specifications:
Dimensions

Length: 3.1 inches
Width: 3.1 inches
Height: 1.2 inches
Weight: 4.1 oz (118g)

Voltage
Input: 5V DC / Driving: 3.3V DC
Display
0.96 inches OLED (128×64)
Storage Capacity
32MB
Battery
Built-in rechargeable Li_po (500mAh)
Wireless Connectivity
Bluetooth 4.0 BLE
Laser

Voltage: 3V DC / Current: <25mA
Wavelength: 660nm Red / Class: 2

Materials
Casing: Polycarbonate String: Dyneema
Compatible OS
Android and iOS
Measurement Range
String: 0-9 feet 10 inches / 0-300cm Wheel: 0-32 feet 9 inches / 0-999cm Remote: 1 feet-16 feet 4 inches / 30cm-500cm
For our Bagel Tape Measure review on the specs, let's first focus on its durability. Since it's made with a polycarbonate casing, this device has high impact resistance. So you don't have to worry about it breaking when dropped.
Also, the Dyneema string is strong, flexible, and can withstand up to 112lb. This string is also a better alternative to metal tape measures as it prevents cutting and injuries.  Additionally, the Bagel's battery is impressive as it can last up to 24 hours and an average of 8 hours with constant use. You can also charge it with any micro USB cable you have at home.
Design
The Bagel is no doubt one of the coolest tape measures we've seen. With black colour and yellow accents, this device looks sleek and modern. It looks even better than the Ontel Measure King, which almost has the same features. Its 0.96 inches OLED display is put to good use, especially when you don't have your phone with you. And its small and compact design also makes it convenient to use and carry around.
What's It Like to Use?
Bagel Tape Measure is very easy to use. You just have to choose from the 3 modes, take the measurement, then press the save button. If you are going to take several measurements, adding a recorded voice description will come in handy.
Once you connect the device to your smartphone, all your measurements will be transferred and accessed through the company's app. Your voice recordings will then be automatically converted to text and tagged to your measurements. Finally, with the app, you can organize and look back on your data.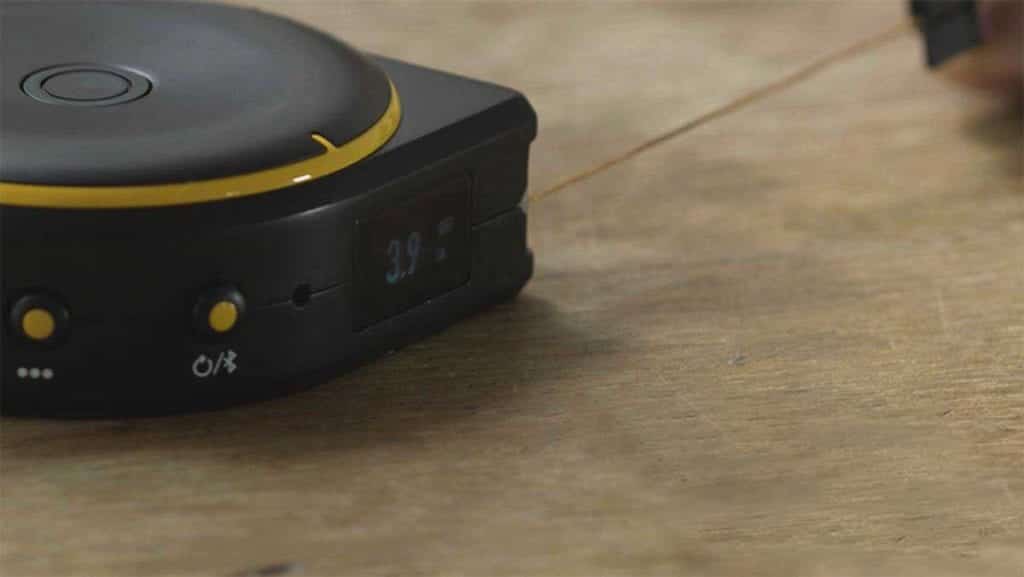 Conclusion
Bagel Labs' Digital Tape Measure is a cool product built with some pretty great and practical ideas. However, technology or design is just not there yet, specifically in terms of accuracy. Its accuracy is so bad that it is not recommended for use in body measurements, DIY projects, clothes, or anything. Overall, it's a neat yet pricey toy and nothing more.
Since the product performed so badly, its manufacturing was discontinued. So if you are wondering where to buy Bagel Tape Measure, it's not available anymore. The company, however, used the Bagel's mistakes as a basis for their Pie Smart Tape Measure.