ⓘ We are reader-supported and may earn a small commission at no additional cost to you if a purchase is made through one of our links.
Working in your office the whole day or sitting on your couch for a long time can result in bad posture – which can lead to pain and discomfort in the back, neck, shoulder, and other parts of your body. While a massage or getting treatment can help and improve what you are feeling, they can get expensive over time. So if you want to avoid frequent spending on massage and treatments, the Balancenap may just be what you need.
But what is the Balancenap, and how can it help you? More importantly, should you give it a try? Let's find out with this review. If you can't read the whole thing, you can click on any of the links below to skip to that section.
What is Balancenap?
Backache, shoulder discomfort, stiff neck, and body ache are some of the most common problems people experience. And these are exactly what the Balancenap aims to help with. It is marketed as a "total whole-body healthcare tool" that combines body correction, massage, and exercise. So you can apply it in the affected parts of your body and relieve pain. Additionally, regular use of the Balancenap is also said to help with blood circulation, restoration of normal angles, and training the core muscles in charge of the key functions of your body.
The Balancenap is designed and manufactured by Master Fit, which is a startup company based in New York. This specialized equipment is easy to use and versatile. And it can help you achieve the normal angle of your body by just lying down. You can use it for your neck, back, wrist, ankle, calf, and pelvic area.
Now, the idea behind the Balancenap isn't exactly new. There are a lot of posture correcting tools and massage equipment available in the market today. There's the foam roller, foot roller, wearable spine corrector, and fitness balls. But what makes the Balancenap unique is that you can use it for different parts of your body. This is because you can use the device as a whole or have it disassembled.
In terms of price, however, the Balancenap is pricier than other fitness equipment today. It has a retail price of $149, but if you support the product on on their Indiegogo campaign this November to December, you can enjoy it at a much lower price. To give you an idea, the company's Super Early Bird promo is $89, and the Early Bird is $96.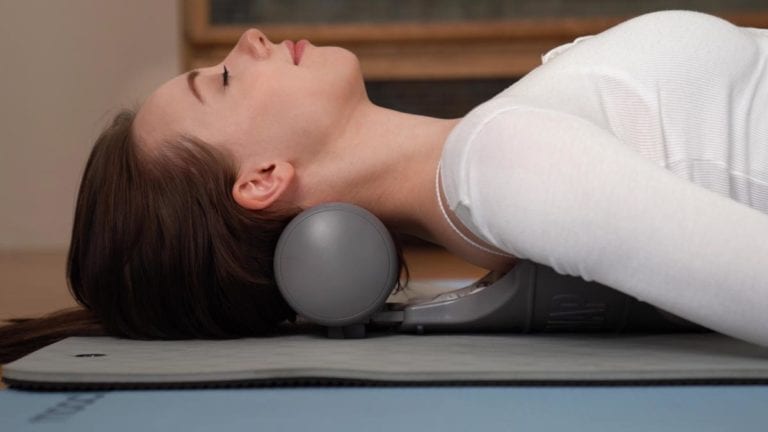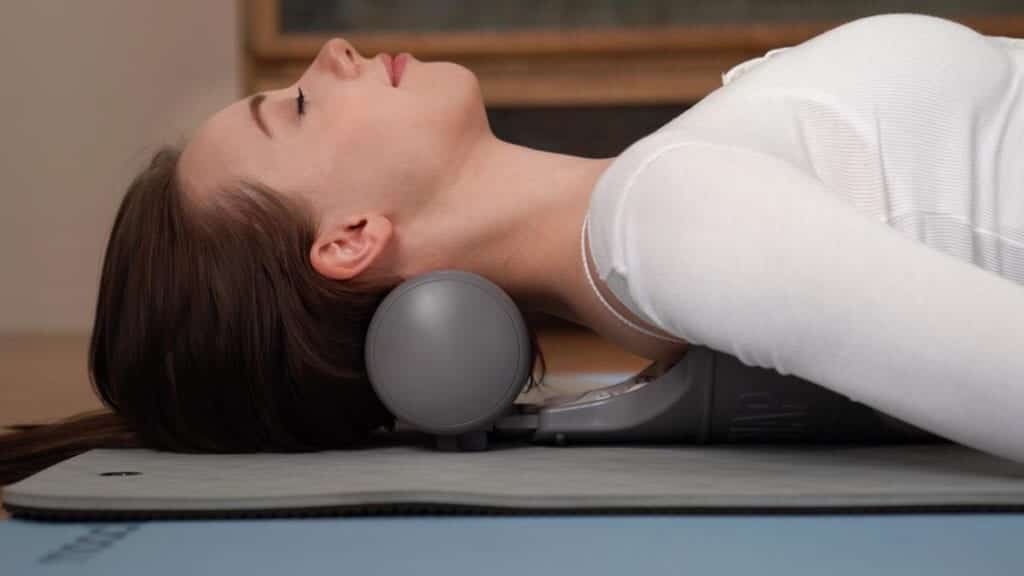 Features
The Balancenap has three parts: the head, body, and connector. Let's discuss each one.
Head
This spine corrector and massage device has a detachable head with bumps designed for your body's sensitive parts. This is similar to a foam roller, and you can use it to massage your neck, leg, and arms.
Body
Its body also has bumps, which are carefully designed to apply pressure and support to your body. You can use this part for your back, waist, and belly area. You can also use it in a plank position and workout your core and stability by rolling the product side to side.
Connector
There's also another part that brings the head and the body together. You can use it to apply pressure to your arms or legs.
As a Whole
You can attach all the parts and create one fitness device. With the help of the connector, you can adjust the distance of the head from the body. Thus, you can find the right fit, according to your needs and height. As a whole, you can use it lying down and let it do its job in correcting your spine angle and promote proper posture.
Specs
Now let's look at the Balancenap specs based on its product details on Indiegogo.
| | |
| --- | --- |
| Material | ABS plastic |
| Size | 13.8 x 14.5 x 4.5 inches (35 x 37 x 11.5 cm) |
| Weight | 4.03 lbs |
At first glance, the Balancenap looks very odd. Certainly, this isn't the most appealing fitness device you'll see. But while it doesn't look that good, it does get the job done. The form and bumps are ergonomically designed to ensure maximum comfort. It's also easy to assemble, and each part has a purpose.
This exercise and fitness device is all plastic. But unlike others, the Balancenap is made with reinforced ABS plastic materials (Starex Evermoin ABS and ABF-0200HF). So it's strong and durable. In fact, it can even withstand up to 500kg. So you can even stand on it and roll it side to side for a workout.
These materials make Balancenap weather resistant, safe, and antibacterial. It adds excellent UV stability too, making it less prone to colour change and physical degradation over time. It's also waterproof. So unlike foam rollers, you don't have to worry about the product soaking up your sweat. You'd even have an easier time cleaning it since all you need to do is spray it with water and wipe it.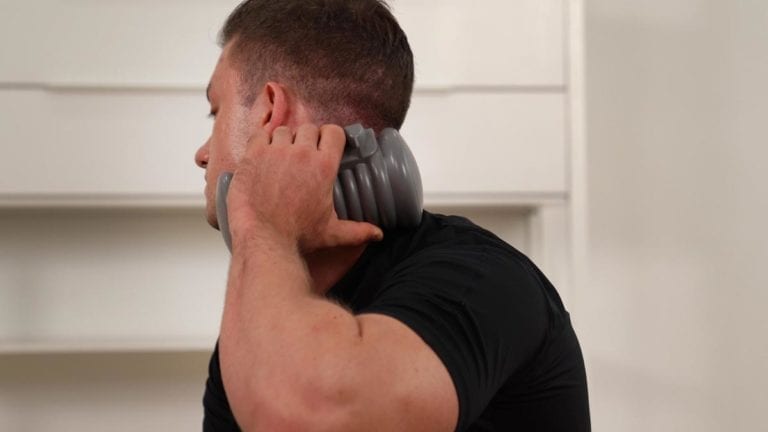 Conclusion
The Balancenap is a wonderful device that can help support and bring back the natural form of your spine as well as relieve your pain. While it can cost more than other fitness equipment, it does offer great value for your money, especially if you frequently experience pain and discomfort in your back, shoulders, and neck. Also, since it's multipurpose, you don't have to buy multiple tools for different parts of your body. Overall, the Balancenap is a step-up from your regular foam roller and yoga ball.
However, while the Balancenap looks great on paper, always remember that it is still a project on Indiegogo. This is worth reminding since we have seen so many products in the past that quickly went south once people used them. Hopefully, this won't be the case with the Balancenap.
Review Box
Balancenap Review
Design & Build -

7.6/10

Features -

7.6/10

Comfort -

7.8/10

Total Value -

7.6/10
Summary
Balancenap is a 3-in-1 tool that can help you with body posture correction, massage, and fitness. It can be assembled or disassembled to provide relief and support to different parts of your body. You can even use it for exercise. So if you're looking for a fitness device that can help you get some workout too, this is a great product for you to try.
Pros
✓ Durable
✓ Multipurpose and versatile
✓ Easy to clean