ⓘ We are reader-supported and may earn a small commission at no additional cost to you if a purchase is made through one of our links.
For many of us, our dogs are no longer just pets – they are our family. So whenever products and applications claim they can help make our fur babies live longer and happier, we go for it. And it's no different with the PuppyDoc. 
PuppyDoc is a project that started in Kickstarter and has an active campaign in Indiegogo. As of date, it has already received US$52,355 by 200 backers on both platforms. This is very impressive considering the company behind it was only seeking US$4,000 in funding. This just goes to show how serious fur parents are today in keeping their dogs healthy. 
For more cool dog gadgets, check out our list of best dog gadgets from last year.
But what is this PuppyDoc and how can it help your furry friend?
What is PuppyDoc?
PuppyDoc is a device and application by JMsmart, an up and coming California-based team that specializes in the development of IoT devices. This product just completed its beta testing in February 2020 and is now ready for manufacturing. It is introduced as the "world's first companion animal health care device." 
Unfortunately, it isn't the first. There's the Waggit Collar and FitBark, which can track your dog's location, health, and activities. All these products and applications, including the PuppyDoc, were developed to help owners raise their dogs better through the animal's health data. So what's unique about the PuppyDoc?
Well, while the PuppyDoc also has activity and some location tracking, its main purpose is to encourage dog parents to enjoy the sun with their furry friends. It is designed to measure the colour and intensity of the sunlight then show you your dog's daily exposure time, UV level, light pollution, and the amount of Vitamin D synthesis. It will also provide you with its calculated energy index. 
What It Is: It's All About the Sun
With the PuppyDoc, it's all about the sun. According to its website, the company found a way to monitor your furry friend's health by measuring the dog's sun exposure and activity. They will then analyze this information and provide you with recommendations that can help your dog's biological rhythm. 
Also, as stated in its Kickstarter campaign, if dogs don't have enough exposure to sunlight and outdoor activity, they may develop mild to aggressive residual illnesses, separation anxiety disorders, and even depression. The designers also claim that sunbathing and physical activity encourages the absorption of Vitamin D, calcium, and other vital minerals while helping dogs strengthen their bones and joints. The product will also provide you information about your dog's exposure to light pollution. The company considers this an important feature since too much light pollution can distract your furry friend from having a good night's sleep, which can then affect his/her overall health. 
PuppyDoc also recommends sun exposure and daily amount of activity depending on your dog's breed, age, and weather conditions. This is so you can prevent overworking your dog or overexposing him/her to the sunlight – which can cause heatstroke or burns. Excessive exposure to UV light is said to damage your dog's fur as well.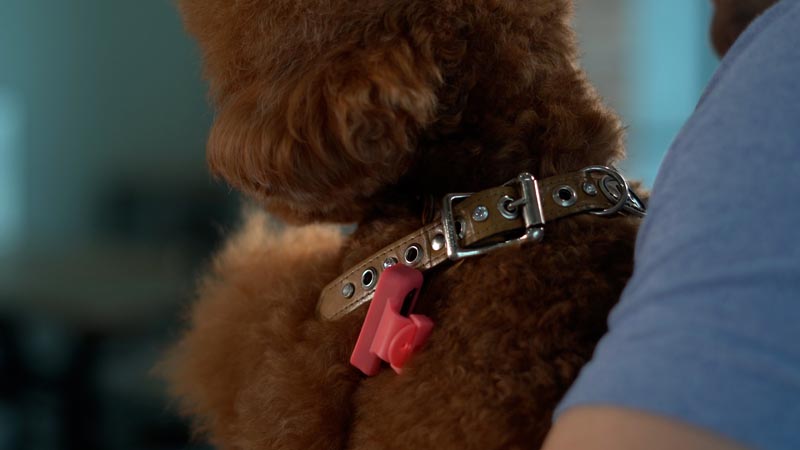 The Hardware
The company uses a 3-Axis Accelerometer that helps track your dog's movement. It will give you a nudge when it's time to exercise, rest, and sleep. It can also measure calories. For more information, here are some of the hardware's specifications:
Feature
Specification

Material

Rubber band

Connection

Bluetooth 4.0 LE

Sensor

Illumination sensor

Light colour temperature sensor

Charging Requirement

USB charging

Battery Life

Up to 7 days

Charging Time

20 minutes

Dimensions

45 x 19 x 12 mm

Weight

17 g
This device is small and portable. It's also waterproof, flexible, and it can fit most dog collars. You can check its battery life through the PuppyDoc App well. In terms of variety, this product is available in blue, pink, and white.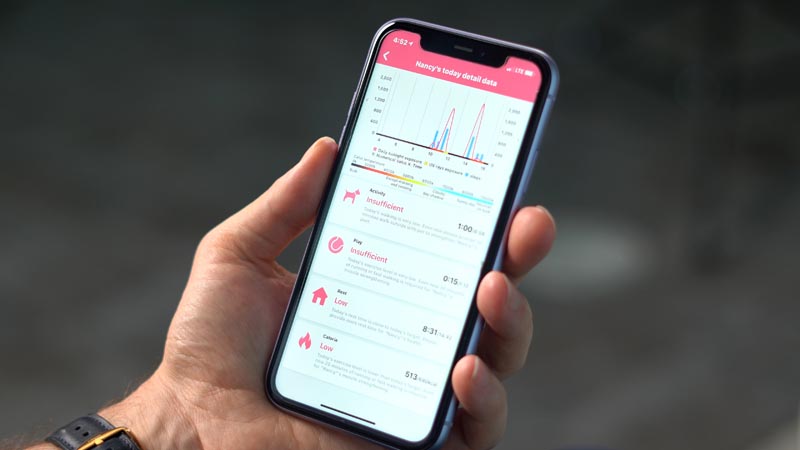 The App
The PuppyDoc App is available in Google Play and the App Store. You simply have to register, pair it to the device, and add your dog. It's that simple. And you can use your account for as many as 100 devices. Furthermore, the app will display the following data about your dog:
Depression

Sun Exposure

Light Pollution

UV Exposure

Vitamin D

Bark Point

Calorie

Activity

Play

Rest
What It Isn't: It's Not a GPS Tracker
Unfortunately, while PuppyDoc does have some location tracking feature, it falls behind Waggit and FitBark GPS. These two devices have no distance limits and are connected to cellular service. Thus, they are more able to track your pup anywhere in the country in case he/she goes missing. 
On the other hand, PuppyDoc can only search the device if it's within 15 meters and that's like 20 steps. At this distance, you can easily see your dog. This is because it relies on Bluetooth technology, which is very limiting for a device that claims to be able to help find your dog. 
But the PuppyDoc's lack of GPS tracking does come with a benefit: there's no monthly fee. Offered at a flat rate of $79, PuppyDoc is cheaper compared to the FitBark GPS which costs $69.95 on Amazon plus $9.95 per month. It's also a lot cheaper than the Waggit Collar which costs $229 on their website plus a $9.95 monthly fee. 
However, PuppyDoc is a little pricier than other activity, health, and fitness trackers that aren't GPS trackers. For example, the FitBark 2 which is sold at $69.95. So is the $10 difference worth it? Should you give the PuppyDoc a try? 
Well, that's totally up to you. If you're looking for a device that will help you track your dog's health and location when he/she goes missing, best look elsewhere. But if you see the benefit in measuring sunlight and UV level for your dogs, this is certainly a great product for you.
Conclusion
While we think this is a pretty cool product, it does need improvement in tracking your dog's location. For a $79 device, some people will expect it to do as much. But overall, PuppyDoc is an interesting product that will encourage you to go out with your dog more. It can help ensure your furry friend is getting the sun and exercise he/she needs based on his/her breed and age.