Despite there being a significant increase in the number of macOS-compatible keyboards over the years, nobody makes Apple-geared hardware quite like Apple themselves. In this Apple Magic Keyboard review, we've gotten our hands on the latest iteration of the tech juggernaut's multi-purpose keyboard that's just as minimalist as you'd expect while supposedly boasting an exceptional level of performance that's worthy of the brand name.
[wd_hustle id="99″ type="embedded"/]
Apple Magic Keyboard Review
Design & Build -

8.9/10

Battery Life -

8.7/10

Ergonomics -

7.8/10

Typing -

7.8/10
Summary
As long as you can overlook its missing backlight and lack of software suite, the Magic Keyboard will prove itself to be the perfect typing companion for any and all Apple devices in your collection. It may not be as customizable as some of the other keyboards around, but a lot of its charm really does lie in its simplicity. If you're shopping for a keyboard that's easy to use and rocks that trademark Apple design, then the Apple Magic Keyboard is your clear winner.
Pros
Slim, low-profile design that's both handsome and sturdy
Scissor switches are responsive and offer great tactile feedback
Compatible with pretty much any Bluetooth capable device except Android
Keystrokes are nice and quiet
Cons
Doesn't have a backlight
No software support
Doesn't come with adjustable legs
Shallow keys take some getting used to
But with its price tag leaning slightly on the steep side and the excellent alternatives on the market, including the budget-friendly Logitech K380 and the equally functional Vinpok Taptek Keyboard, is Apple's offering really the best keyboard option for Mac users?
Pressed for time and can't read through the entire review? Simply click any of the links below and we'll take you right to that section.
What is the Apple Magic Keyboard?
The Magic Keyboard serves as the successor to the Apple Wireless Keyboard which was discontinued near the end of 2015. It's now the standard typing peripheral for Mac-based desktops and laptops and offers some major improvements over its predecessor, such as a rechargeable battery, better switches, and a slimmer form factor.
While it was undoubtedly designed with Apple devices in mind, it's compatible with other operating systems as well, albeit with limited functionality. As you'd expect from any Apple peripheral, it fits the brand's aesthetic perfectly with its low-profile design and its remarkable slimness. It's not a particularly expensive device, especially considering the brand it carries, but its lack of extra features makes it feel pricier than it really is.
For the purposes of this review, we're going to be taking a look at the 60% variant, though there is a full-sized version of this keyboard complete with a numpad and larger arrow keys if that's what you're after.
[wd_hustle id="99″ type="embedded"/]
Features
Switches
The Magic Keyboard features tactile scissor switches that offer an impressive level of responsiveness along with a satisfying feel.
Connection
It's mainly a wireless keyboard that's able to connect to a wide variety of devices via Bluetooth, though you can also connect it to your machine via its 1-metre long Lighting-to-USB cable for a wired experience or to charge the peripheral.
Battery Life
According to Apple, the Magic Keyboard can hold out for up to a month before needing a recharge which is pretty impressive.
Accessories
The Magic Keyboard's box is as bare as the latest iPhone, with the only contents being the peripheral itself, its cable, and a manual. Don't expect any extras or freebies here.
Media Controls
As with most compact keyboards, this one has media controls in the form of hotkeys that can be accessed as secondary functions of the F7-F12 keys.
Backlight/RGB Lighting
It comes with no backlight or RGB capabilities, making it fairly tough to use in darker environments.
Software
This keyboard doesn't feature any form of companion software so don't expect any programmable keys or macro support.
Specs
| | |
| --- | --- |
| Dimensions | 27.9 x 11.49 x 1.09 cm |
| Weight | 0.231 kg |
| Switches | Tactile Scissor switches |
| Media Controls | Function button hotkeys |
| Connection Type | Bluetooth/Wired USB |
| Battery Life | Up to 1 month |
| Backlight/RGB Lighting | None |
| Number of Keys | 78 |
| Software | None |
| Accessories | None |
 Aesthetics
It comes as no surprise that the Magic Keyboard effortlessly fits the aesthetic of both the newer iMacs and Macbooks as well as the Magic Mouse 2, considering Apple has garnered a reputation for synergy in both software and physical design. It sports a matte silver finish with large, well-spaced white keys and grey characters, making for a distinctly Apple-esque colour scheme.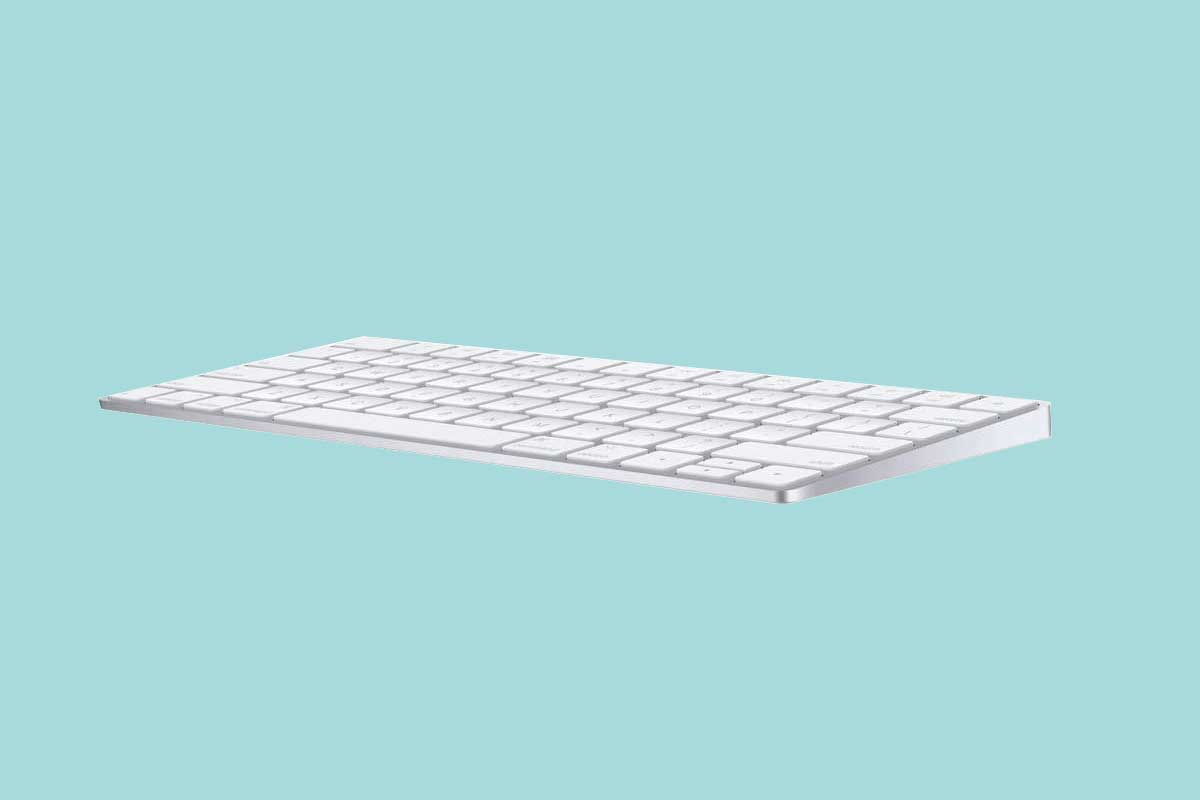 Its form factor is both slim and very lowkey, featuring a sloping base that's lowest at the bottom and rises gradually the further up the keyboard you go. In short, if you're a fan of how Apple designs their products or you at least have a love of low-profile peripherals, then you'll find a lot to like about the Magic Keyboard's looks.
What's it like to use?
Given the Apple Magic Keyboard's lack of software support, there really isn't much to setting it up beyond either plugging it in via USB or syncing it with pretty much any Bluetooth-capable device as long as it's not an Android. Yup, you heard that right. Sorry Android users but you're going to want to look elsewhere for your wireless keyboard needs.
While it's evident by design that this device was created to fit best with a macOS or iOS/iPadOS operating systems, it functions decently with both Windows and Linux as well, though it's worth noting that the OS-specific keys won't work which isn't much of a surprise. It's a bit of a letdown not having a Windows button but at least it functions.
Not having a companion app has its charms and it means that the device is good to go upon connection, but that also means that you get just about zero customizability with this keyboard. No macros, no profiles, and no programmable buttons. What you see is what you get. While this may be great for plug and play users who don't care much for flexibility, keyboard enthusiasts are sure to be let down.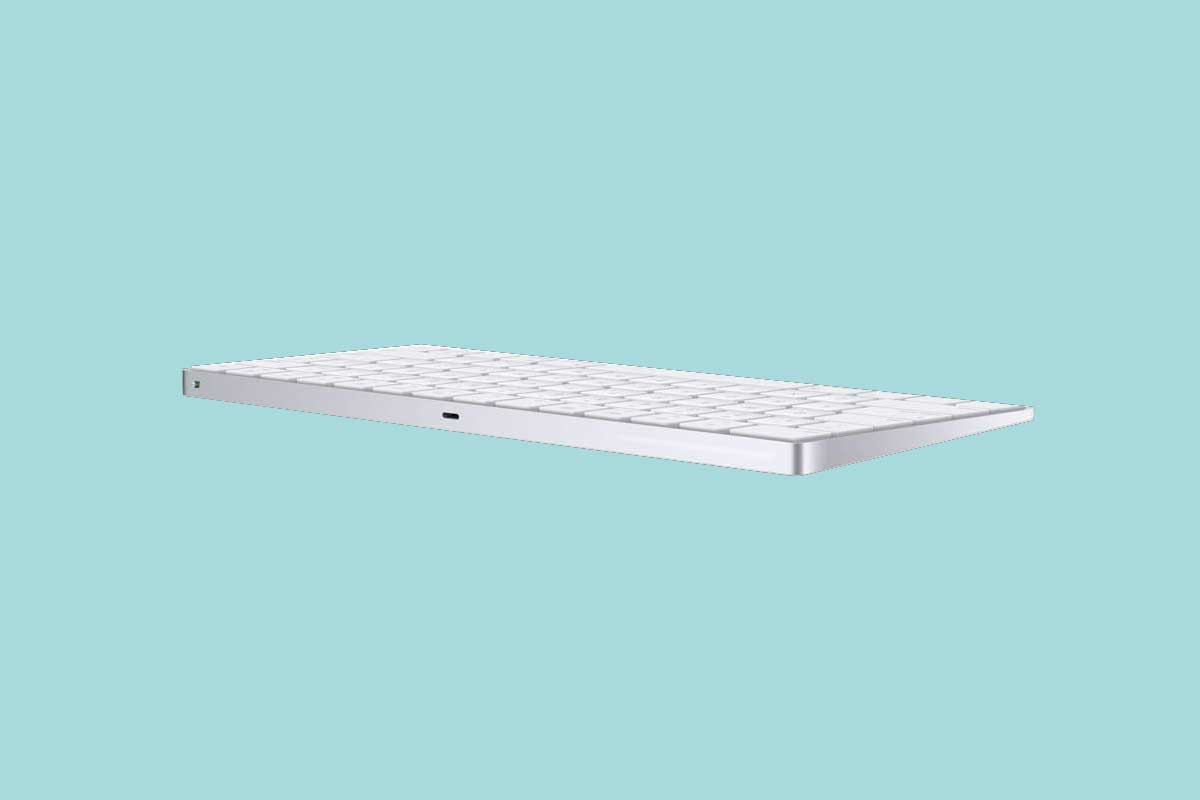 Aside from its lack of software, another one of the keyboard's more glaring flaws is its lack of a backlight which makes it increasingly difficult to use in darker environments, especially if you prefer sitting further away from the screen. It wouldn't have taken much for Apple to laser-cut the characters and add a nice backlight to their mainstream keyboard, leaving it a mystery as to why they decided against it.
Fortunately, the Magic Keyboard's scissor switches perform wonderfully and offer just the right amount of satisfying tactile feedback. It feels quite a bit like using a laptop keyboard, so if that's your cup of tea then you're definitely going to enjoy using this device.
[wd_hustle id="99″ type="embedded"/]
Its responsiveness is spectacular given its low actuation force and distance but this can sometimes be a double-edged sword, as the tendency to mistakenly press a key is significantly higher than with a more elevated alternative. With a bit of practice, however, you'll be typing like a champ in no time.
It's an exceptionally well-built piece of equipment that's both tough and lightweight thanks to its high-grade aluminium frame. The shallow keys and tight spaces also ensure that there are fewer gaps for dirt and debris to get trapped in, meaning its easier to keep the device clean overall. It's a bit shame that it doesn't have legs though, relying solely on its sloping design to provide a slight incline.
Final Thoughts
For an Apple enthusiast that owns a lot of the products in the brand's ecosystem (with at least one of them being an iMac or Macbook), the Magic Keyboard will more than likely be your typing device of choice. Not only does it look the part with its eye-catching silver finish and slim, minimalist design, but it also performs fantastically and is sturdy to boot. As a bonus, it works all right with Windows and Linux machines too.
Its lack of a backlight can undoubtedly be frustrating at times and having no software support severely cripples its customizability, but if you're looking for the simplest wireless keyboard for your Apple devices that looks as good as it performs, then the Apple Magic Keyboard is the one for you.
[wd_hustle id="99″ type="embedded"/]