Ultimate Ears has been releasing, with no exaggeration, the best Bluetooth speakers around. Their Wonderboom 2 was among last year's top-performing speakers and their Boom 3 is still very much in demand until today. So it's no surprise that the company is again making waves with the Megaboom 3.
CHECK TODAY'S PRICE HERE: See at Amazon
Look Station

Features

Total Value
Summary
If you're looking for a high-quality and durable Bluetooth speaker that you can take with you wherever you want to go, the Megaboom 3 is a great choice. It is waterproof, dustproof, and even drop-proof. More importantly, it offers a great quality sound that you can enjoy.
Pros
Waterproof
Very durable
Very long battery life
Quality Sound & Volume
Cons
Charging dock is not included
Recessed Mids
Requires users to download app before using
While Ultimate Ears didn't change much with their formula with this speaker, that's a good thing. Why change what's not broken, right? But still, there are some pretty impressive upgrades with the Megaboom 3. If you are interested in buying it or if you're not sure whether it's the right speaker to replace your old one, here's our UE Megaboom 3 review to help you.
Don't have time to read the whole UE Megaboom 3 review? Just click on any of the links below to skip to that section.
Overview
The Megaboom 3 has practically everything you want from a Bluetooth speaker – good looking, well-built, great sound, throbbing bass, and long battery. To top it all off, it is waterproof, dustproof, drop-proof, and very stylish too. So if you are looking for a powerful portable speaker to take with you to the park, pool, river, or beach, the Megaboom 3 is certainly a great choice.
What most users note, however, is that this speaker isn't exactly the cheapest model in the market. The  Megaboom 3 is available at $160 on Amazon, and for around $169.99 to $199.99 Ultimate Ears website.
Compared to other waterproof speakers, it is among the more expensive models. So is the UE Megaboom worth it? Definitely and we'll discuss why later on.
Now, of course, this speaker isn't for everyone and it can improve in some aspects. But overall, if you need a portable speaker that plays your songs as loud as you want them, can last all day, and can stand against the elements such as the rain, water, dust, sand, and drops, then the Megaboom 3 is perfect for you.
If you're interested in a speaker with a smaller form factor then check out our UE Boom 3 review.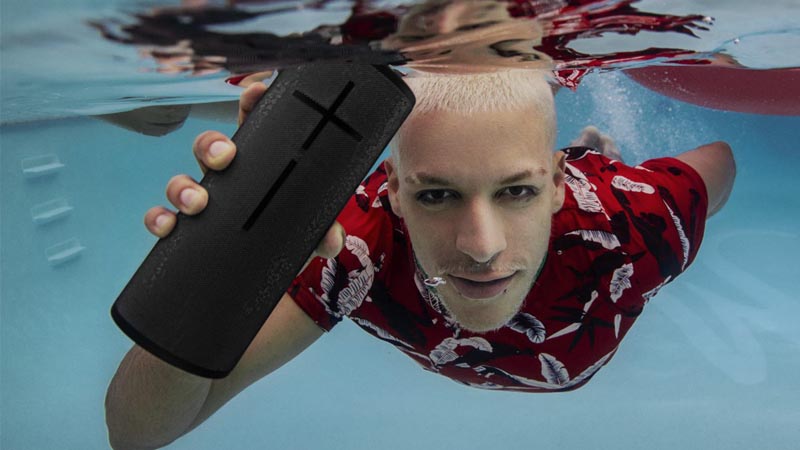 Features
For our Megaboom 3 review, let's start with what this speaker isn't. First, it's not a smart speaker. So if you are looking for a device that will allow you to access Alexa or your Google Assistant, look elsewhere. Also, while this speaker has already great bass, it's not the most powerful. So if your main criteria for purchasing a speaker is the bass, you might be better off with the JBL Boombox. Just prepare to pay twice as more.
Now, let's move on to what Megaboom 3 is, which is a portable and waterproof Bluetooth speaker with good bass, a well-built and durable body, amazing sound, and a battery life that can last the whole day. That ticks almost all the qualities of a good music speaker most people are looking for. But to understand better what this speaker can provide, let's discuss its 3 best features.
Performance
If you're looking for a speaker with a kick, the Megaboom is a great choice. It can be incredibly loud without compromising the quality of sound. Its highs never sound painful and its bass leaves a good impact. However, we noticed that the mids tend to be recessed and it doesn't have as much power and volume as we'd like. As a result, the vocals are overpowered by the treble and bass. You may try to fix this with the customizable EQ on the app.
Battery Life
The battery life is one of the best selling points of this product, and rightfully so. The Megaboom 3 offers an impressive 20 hours of playtime and this isn't far from the truth, considering you play your songs around a 25% volume. If you crank that up, expect the battery life to drop to several hours.
Waterproof
Another critical feature of the Megaboom 3 is its IP67 water and dustproof rating. It is designed to play your favourite songs even after getting seriously wet. So you can splash it, drench it, dunk it, or drop it in the water. The company also claims that it can be totally submerged in the water for up to 30 minutes and it will still work. Plus, it floats too!
Specs
This wouldn't be a Megaboom 3 review without the specifications, right? So here's what you need to know about this speaker:
Features

Specification

Dimensions

Diameter: 87 mm

Height: 225 mm

Weight

925 g

Battery

Rechargeable Lithium-Ion Battery

Battery Life

Up to 20 hours

Frequency Range

60Hz – 20 kHz

Maximum Sound Level

90 dBC

Wireless Capabilities

Can pair up to 8 Bluetooth enabled devices

Bluetooth Mobile Range of Play

Up to 45 m or 150 ft

Splash / Waterproof Rating

IP67
The Megaboom 3 is bigger and heavier compared to the Boom 3 (click here for the Boom 3 Review 2020). But while it isn't the smallest speaker you'll find, it still has the perfect size to be carried around on trips and adventures.
In terms of charging, UE moved the port to the base of the speaker to make access easier, especially with the Power Up wireless charging dock that the company sells separately for $40. With it, you can avoid dealing with wires and you can conveniently listen to your favourite songs even while charging. You can use the micro USB connector for charging as well.
Another feature that UE added to the Megaboom 3 is the "DJ Mode". This allows you to connect the speaker with 2 devices at the same time and take turns with a friend controlling the music. Planning a party? You can amp it up and create the ultimate sound experience by pairing this speaker with other Boom, Megaboom, and Hyperboom models through the Boom App.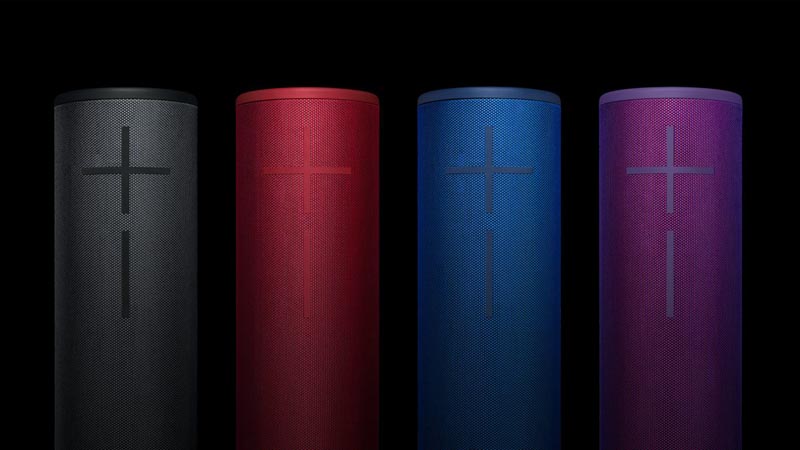 Aesthetics
The Megaboom 3 doesn't look much different from the Boom 3 or Boom 2. It still follows UE's iconic cylindrical design, which is one of its best features and which the company has perfected in this model. It feels more refined and even the buttons are better and more tactile.
Now, unlike other speakers in the market, UE's cylindrical design allows 360 degrees of sound. So whether you're at the back, side, or front, you are can still hear the same quality. This is great when you're having a party since everyone can hear the music.
Lastly, the Megaboom 3 is covered with a two-tone fabric which not only makes it extremely good looking but durable as well. It is offered in 6 themes such as Lagoon Blue, Night Black, Sunset Red, Ultraviolet Purple, Moon (Exclusive at Best Buy), and Dusk (Exclusive at Amazon). Each of these themes has this elegant and luxurious feel that'll certainly call attention.
What's it Like to Use?
The Megaboom is one of the strongest and well-built speakers today. It's not only waterproof but it's also very tough. It has gone through rigorous durability tests such as drops, kicks, and tumbles. Plus, the fact that it would still work even if you spill your drink on it? That's impressive. With this, you don't have to worry when you're at the pool, beach, river, and outdoors.
In terms of ease of use, this speaker has the "Magic Button" at the top which is similar to the Boom 3. Not only can this button play, pause, and skip tracks but it can also launch your playlist from selected music streaming platforms. This is a great feature to have if you're using Apple Music, Spotify for Android, Amazon Music Unlimited, Amazon Prime Music, or Deezer.
Now, to use the speaker, check it's battery life, and to access all its features, you will be required to download the company's app. While the process is fine, some users are noting problems with the app. So we think UE can improve on this.
Conclusion
This is a great speaker to have, especially when you love playing music while at the beach, river, park, or travelling. It's also perfect for those who love having parties by the pool. Its battery life, durability, and waterproof capabilities are its best features.
Price reduction
But overall, our Megaboom speaker review verdict is clear: it offers great value for the price.
We hope you found our UE Megaboom 3 review helpful and informative! If you have an yquestions, let us know in the comments below!
UE Megaboom 3 FAQs
Yes, the Megaboom 3 is an excellent wireless speaker and a noticeable improvement on the previous version.
Last update on 2022-05-15 / Affiliate links / Images from Amazon Product Advertising API
No, the maximum sound level of both speakers is 90dBC.
Last update on 2022-05-15 / Affiliate links / Images from Amazon Product Advertising API
Megaboom 3 is Boom 3's big brother. It has a longer battery life, wider sound frequency and has better bass. It shares an identical feature list to the Boom 3.
Last update on 2022-05-15 / Affiliate links / Images from Amazon Product Advertising API
Last update on 2022-05-15 / Affiliate links / Images from Amazon Product Advertising API