In the good old days, cellphones had removable batteries that you could just pop right off whenever you wanted. That way you could always bring a juiced-up spare in case you don't expect your battery to make it through the day. Nowadays, the vast majority of smartphones have built-in batteries, so if your device dies you have no choice but to find a way to recharge. That's where portable chargers like the Anker PowerCore 10000 come in.
CHECK TODAY'S PRICE HERE:
Anker PowerCore 10000 Review
Design

Features

Total Value
Anker PowerCore Review Summary
The Anker PowerCore 10000 is an unexpectedly well-built portable charger that's delightfully tiny and light as a feather, making it the perfect little gadget to take with you travelling. Its large power capacity ensures that you'll have plenty of juice for all your gadgets and it's affordable to boot. With its only downside being its singular charging port, the Anker PowerCore 10000 is easily one of the best ultra-compact portable chargers you can buy for $20.
Pros
✓ Compact and lightweight
✓ 10,000 mAh power capacity is massive for something so small
✓ Affordable
✓ Ergonomic design
✓ Fast output charging means devices charge at full speed
Cons
✘ Contains only one charging port
Ever since portable chargers (also known as power banks) became mainstream, it's made the lives of smartphone users a whole lot more convenient. Let's say you have a long day on the road (or the beach) and don't expect to be in the vicinity of an outlet the entire time.
With how long the average modern smartphone battery holds out, there's almost no way your device will last the day. With a decent portable charger handy, you could give your phone a second or even a third wind. It doesn't stop at smartphones either. You can use it to charge your smartwatch, phone gimbal or any of your mobile gadgets a much-needed recharge.
While all portable chargers are useful, not all of them are created equal. With an overwhelming variety of them to choose from nowadays, picking the right one can often be a daunting task. In this Anker PowerCore 10000 Review, we're going to get into the nitty-gritty of what this power bank has to offer and help you figure out if it's the one for you. 
What is the Anker PowerCore 10000?
Anker has been in the business of battery-related electronics for the better part of  8 years now and has developed a reputation for providing consumers with high-quality yet affordable products, especially when chargers and power banks are concerned. 
One of their more popular devices is the Anker PowerCore 10000, an ultra-compact power bank that features advanced fast-charging technology and boasts a remarkable degree of portability, making it perfect for people who are constantly on the go.
Not only does it fulfil its purpose of providing you with some backup power, but it does so while looking sleek and stylish. It won't cost you a pretty penny either since the Anker PowerCore 10000 is one of the most affordable high-quality portable chargers in the market. 
Check the  Anker PowerCore 10000 price.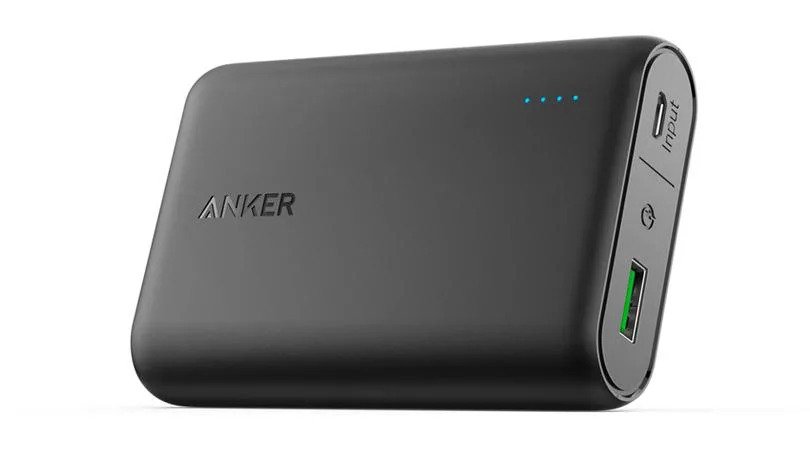 It's a sturdy little guy, so you can expect it to take a bit of a beating, but just don't go overboard since it wasn't really designed to be a heavy-duty power bank in the first place. The PowerCore 10000 also makes use of Anker's patented MultiProtect system to ensure your safety and your device's at all times.
Features
The most important thing to know about a portable charger is its power capacity and the PowerCore's is right there in the name. It has a power capacity of 10,000mAh which should be enough juice to charge most smartphones at least 2 to 3 times over. That's pretty impressive in its own right, but what really sets it apart is that it has that much power housed inside an impressively tiny body – which is actually its best feature. 
The PowerCore 10000 is only 9.2 cm long, 6cm wide, and 2.2 cm thick, making it a comfortable fit in the palm of anyone's hand. You shouldn't have a problem jamming it into your side or back pocket either. It also weighs a mere 181 grams, meaning you could carry it in your bag or purse and hardly feel it at all. At that size and weight, this portable charger is absolutely perfect for people who are constantly on the move and are looking for a device that wouldn't be a hassle to carry around.
As far as charging speeds go, the PowerCore 10000, thanks to Qualcomm's Quick Charge 3.0 sports an output charging of 5V/2.4 Amps, which should be fast enough to allow any device you connect to charge at its optimum rate. . Perhaps its only downside is the fact that it's designed with only one charging port, meaning you can only charge one device at a time.
Though at that size, that's really not something you should be complaining about. Purchasing the Anker PowerCore 10000 nets you the portable charger itself, along with a Micro USB cable, travel pouch, and welcome guide.
Specs
| | |
| --- | --- |
| Dimensions | 9.2 x 6 x 2.2 cm |
| Weight | 181 g |
| Power Capacity | 10,000 mAh |
| Battery Type | Lithium-ion |
| Output Charging | 5 V / 2.4 A |
| Input Charging | 5 V / 2 A |
Design
Looks is definitely one of the PowerCore 10000's strong points. It boasts a small, rectangular shape with rounded edges and just the right thickness to organically tie it all together.
It's more ergonomically designed and easier on the eyes than its sibling, the PowerCore Slim 10000, which is longer, slimmer, and likely not nearly as comfortable to carry around in your hand.
The PowerCore 10000 comes in 4 different colours: black (the standard colour), white, red, and blue. The latter 3 colours could set you back an extra 10 bucks, however.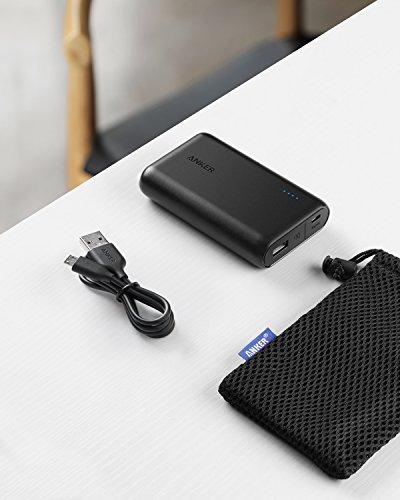 As for its button and port placement, it's fairly straightforward. The input and output charging ports are located on the short side of the device, while the power button lies along the long side. There are 4 LED indicators on the face of the power bank that tell how much gas is left in the tank.
How does it feel?
The Anker PowerCore 10000's lightweight and pint-sized design coupled with its smooth, round edges allow it to be comfortably carried around in your hand while walking about.
And its simplistic design makes it easy to manoeuvre without sacrificing anything in the way of aesthetics. As previously mentioned, it's a surprisingly sturdy power bank, which is quite the feat considering how small and light it is
Its high output charging speed ensures that your device charges up at the same speed as it would while plugged into an outlet, so you won't have to wait long to have your gadgets' batteries at a 100%.
The PowerCore 10000 starts charging the moment you connect a device to it, a pretty nifty trick that makes things a lot more convenient. Inversely, in order to save energy, the power bank shuts off if there's nothing connected to it. 
Final Thoughts
The Anker PowerCore 10000's best feature is its wonderfully petite and lightweight design, geared towards being the perfect partner to take with you on trips. Carrying it around in your hand is a breeze, and it's hardly noticeable in your backpack or luggage.
It boasts a stellar power capacity of 10,000 mAh, enough to give you around 2 to 3 extra charges on your phone which is a lot more than you can ask for from a fella this size.
Sure some people might be bothered by the solo charging port but, given its size, it really isn't all that surprising. Now you know exactly why the Anker Powercore 10 made it onto our list of best travel gadgets for techies.
Last update on 2022-05-20 / Affiliate links / Images from Amazon Product Advertising API