For most, Asus is a brand that's synonymous with high-performance gaming equipment. You know, the flashy stuff that twitch streamers use to improve their KD ratio. However, that is not the only arena which Asus has grown a mass following.
Over the past few years, the Taiwanese tech giants have gone to great lengths in grabbing the attention of some of the world's most highly competed electronics markets. From innovative desktops, gaming laptops and smartphones, to computer-related electronics such as Wi-Fi routers, product diversity at Asus grow strong.
Whilst the first batch of Asus routers were swiftly brushed under the carpet, compelling new features have resulted in the Asus RT-AC88U Router becoming a first-choice consumer product. Nicknamed 'Extreme', this dual-band router has earned some serious clout amongst hardcore gamers and streamers across the globe.
But is the Asus RT-AC88U still worth purchasing in 2020?
Find out everything you need to know in this comprehensive Asus RT-AC88U review as we get down and dirty with one of the leading dual-band routers available today. For those of you who regularly stream in 4K, this could still be the perfect product for you.
Time short? – Click here to skip to our Asus RT-AC88U review summary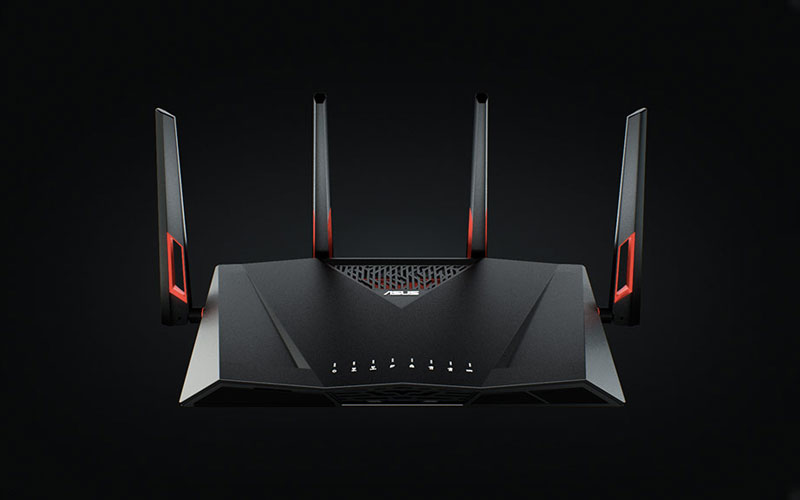 Product Design:
Every great Asus gadget looks amazing and the RT-AC88U dual-band router is no different. Okay, so we know you're not here for aesthetic value, but isn't this just one of the best looking routers you've ever seen? From the iconic red stripes to a matt black finish, it could almost be mistaken for a Decepticon. If Michael Bay were to extend the Transformers franchise then surely the RT-AC88U is a must feature?
Megatron's grandchild perhaps?
Then there's the overload of ports that are available. Flip the router over and you will see that the RT-AC88U is the first home router with eight Gigabit LAN ports with additional support for Dual-WAN. Yes, that's right. You can convert one of the LAN ports into a WAN port. In addition, the Asus RT-AC88U comes with port aggregation whereby two of the LAN ports can be combined into a single superfast connection. Not bad for a company that was originally dismissed for it's home routers.
Whilst 8 ports are more than enough for the average Joe, it's quite clear that Asus have developed a product for the internet abuse you can expect from gamers. This is also reflected in the price tag and by golly is it not cheap! That said, you can't deny that the stunning Asus logo on the front isn't worthy of a few extra dollars!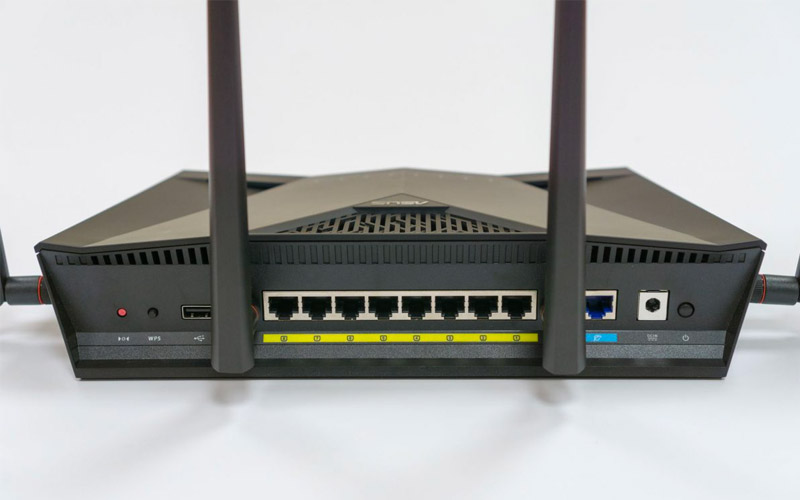 Asus RT-AC88U Performance Test:
As one of the highest data transfers achieved by Asus, the RT-AC88U dual-band router was officially recorded to achieve speeds of 2100 Mbps on 5 GHz channels. It was also recorded at 1000 Mbps on 2.4 GHz channels which is some pretty impressive stuff. However, just like all things tech, we performed testing of our own and received, well, slightly different results. The problem with official company testing is that they are often performed within optimal environments. There's zero interference, few devices competing for juice and you can be damn sure the connecting device used for testing is top of the range too.
So, what did we do?
Using real-world environments, we tested the RT-AC88U on one of the best gaming laptops within our household whilst also syncing our Nest Cam IQ and Apple iPhone 11 to the same connection alongside a handful of other smart home devices. Sound too much? On top of this, we placed the router a fair distance from our computer and then also surrounded it with other devices to cause interference. Now that's what we call real-life scenarios! Here's what we found from our testing.
–
The Distance Test:
Situating our computer around 25ft away from the Asus RT-AC88U, the maximum transfer rate we achieved was around 805 Mbps. The wireless connection remained stable throughout, however, it's a far cry from the acclaimed 1000 Mbps on 2.4 GHz channels. As you may already know, placing the connecting device a fair distance from the router itself plays havoc with data transfer speeds. Whether another floor altogether or just too far away, wireless extenders may be required to even get close to official speeds. That's not just the Asus router by the way, the same goes for all routers across the board.
– 
The Box Test:
Up next was the box test. Here, we boxed the RT-AC88U amongst other routers to create huge amounts of interference. A survival of the fittest if you will. In a real-world situation, there's seldom a perfect place around your home for a router so it's important to test amongst all the elements. Placing the Netgear Nighthawk, Asus RT-AC88U and Netgear R7800 side by side, we were surprised to find that the Asus actually managed to retain its speed. The maximum we achieved on 2.4 GHz channels was around 800 Mbps whereas the data transfer rate for the Netgear R7800 and Nighthawk was slightly lower on all fronts.
–
Asus RT-AC88U Overall Performance:
Performance-wise, the Asus RT-AC88U will instantly take your home wireless network to the next level. Excelling newer rival routers in both speed and stability, Asus remained supreme no matter how many times we tried to break the mould. Delivering impressive Wi-Fi data rates, long range and a stable wireless signal, there isn't much negatively to be said about it's capabilities. Whilst experimental results will vary, our two particular test still proves Asus' supremacy over other traditional routers and it's feature list is also incredible.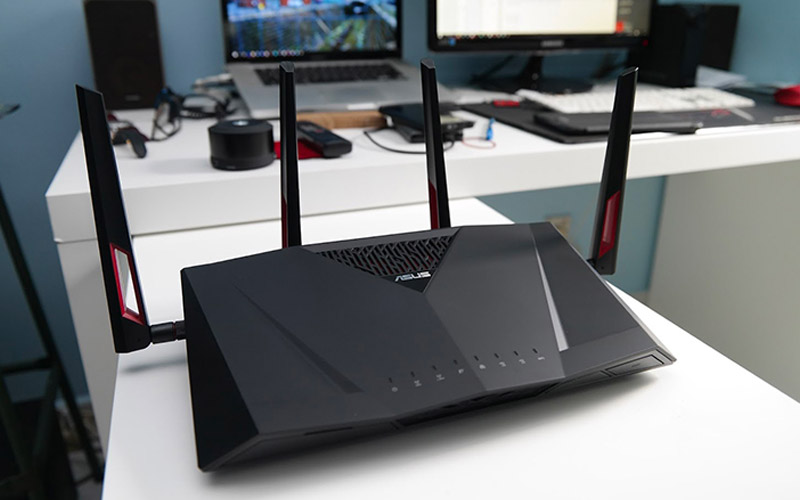 Asus RT-AC88U Router Features:
An important feature mention is that the Asus RT-AC88U comes complete with Smart Connect. Using Smart Connect our results were improved to 853 where competitors had ranged to 770 and 792. Smart Connect is an interesting technology that was only previously seen in tri-band routers. It basically tests the compatibility of devices before connecting to them; providing a combination of both bands. Basically, the router selects a proper network on your behalf!
Cool, huh!?
Another great feature of the Asus RT-AC88U is it's Broadcom NitroQAM technology. Whether you're gaming online or streaming a live event in 4K/UHD, lag is just simply not an option. NitroQAM (1024 QAM) technology delivers a combined 3167 Mbps Wi-Fi speed, ensuring everyone on the network can enjoy a smooth and low latency online experience.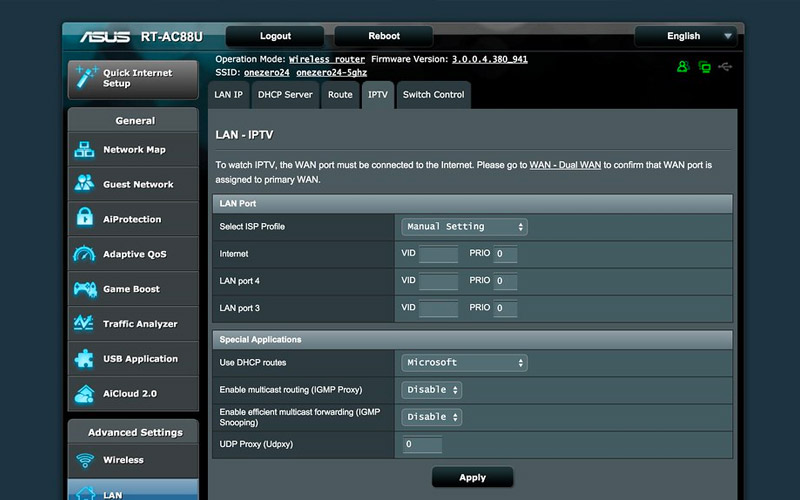 Price & Value:
For all of its roar, the Asus RT-AC88U dual-band router comes at a cost. Priced at around $399AUD, the extra features a premium router like the Asus brings will not be required for the casual internet browser. However, for all you gamers out there, the value to be earned from Smart Connect and NitroQAM technology is insane. We advise that you read through these features carefully to ensure that you get the most value.
Else, it's just an overpriced router.
–
Asus RT-AC88U Review Summary:
Is the Asus RT-AC88U a worthy purchase in 2020? Absolutely. From the above-mentioned tests and the stacked feature list, this is one serious router for the hardcore internet user. The web interface is simple, customisations are vast and the overall performance is superb. Again, stay clear if you just browse Facebook all day but if you stream in 4K and require minimal lag or fast data sharing, this is definitely the router for you. Typically, premium routers will still be of value 3 to 4 years after first launch unless major technological advancements occur. Having only been launched 2 years ago, there's still life in the old dog yet!
–
The Design

Features

Total Value
Summary
If you're looking to take your Wi-Fi connection at home to the next level then the Asus RT-AC88U is definitely the router for you. Watch out 4K streaming, this beauty will eat you alive!
Pros
Stunning Design
Incredible Speeds
Packed Customisations
Cons
Slightly Expensive
Not as fast as claimed.
Content Disclaimer: Our 'Asus RT-AC88U Review' is totally independent and has not been commissioned by the company. Mr Gadget has not received any endorsements for this writing. This includes financial reimbursement, free advertising or the Asus RT-AC88U by way of gift. We hope you enjoyed the article!