Buy HotDive on Indiegogo
Support this project to save money and support innovation from the world's best inventors!
Design & Build -

0/10

Features -

0/10

Sound Quality -

0/10

Mic Quality -

0/10

Battery Life -

0/10

Comfort -

0/10

Total Value -

0/10

MONITORS -

0/10

Image Quality -

0/10

Refresh Rate -

0/10

Ports -

0/10
Summary
HotDive combines three of the most common diving gears. At the price of one, you'll already have a diving computer, a fill light, and a waterproof case for your phone. So start saving space, time, and money with HotDive.
Pros
Strong fill light
App works offline
Affordable
Cons
App not yet available on Google Play
Can't read the whole thing? Click on any of the links below to skip to that section of the Hotdive review:
HotDive Overview
Scuba diving is an expensive sport. So naturally, all its equipment can be too. Dive computers, for instance, can cost anywhere from $200 to $1,500. You may also need a fill light, an underwater camera, or even a waterproof case, which can all be very costly. Not to mention that it can be inconvenient to carry all of them along with your scuba diving gear.
HotDive Pro resolves these issues by putting your gear together in a portable and waterproof case that won't cost you a fortune. With a retail price of $399, it's a lot cheaper than buying a dive computer, underwater camera, and fill light, which altogether can cost more than $1000. If you don't need a dive computer, HotDive's regular version costs less at $349.
Now, HotDive isn't the first to turn your phone into an "all-in-one diving gear". In 2019, a very similar Kickstarter project called "DIVEROID" was launched. Like HotDive, it utilizes your phone's high-quality camera to take videos and photos underwater. It can also turn your phone into a dive computer and a diving logbook. But with an MSRP of $418, it's a lot more expensive than HotDive.
Read more: 16 Most Funded  Kickstarters of 2020

Features
Smart Automatic Air Pump System
Taking clear photos underwater is challenging as they can be either too foggy or too blurry. To prevent this, HotDive uses an independent auto-pump air extraction system that can create the perfect vacuum for your phone. Meaning, you can take crystal clear photos at any depth without having to worry about any fog covering your view.
Fill Light
As you go deeper and deeper, the less light there will be. So you'll need to carry your light if you want to take those amazing shots. HotDive can help you with this as it is packed with a powerful fill light.
Built-In Dive Computer
The company's advanced version, HotDive Pro, features a built-in computer that can measure depth, dive duration, and ascending speed. It's also equipped with a compass so you always know which direction you're going.
With this dive computer, you'll be informed if you have reached your safety stop. It will also sound an alarm if the depth stress reached 5 meters. This will remind you to stay underwater for 3 minutes before ascending to the surface.
Buttons
For some diving phone cases that rely on touchscreens for control, they become harder and harder to control the deeper you go. To prevent this, HotDive uses buttons so you can easily take photos and videos and switch between your front and rear cameras.
Now, these are just some of the most notable features of HotDrive. There are certainly more impressive things about it, including its app, real-time dive syncing, wrist strap, and wide compatibility. There are also 4 M6 mounts (6mm) in the bottom for your baseplate, rig, or other equipment.
Specs
Power Supply
3,500mAh
Maximum Depth
80M
Material
Aluminum + 6mm PC Glass
Fill Light Illuminance
130 degrees
Color Temperature
5800 – 6500K
Lumens
800
Compatibility

Apple iPhone (12 Pro Max/12 Pro/12/SE/11/XR/X/etc.)
Samsung Galaxy Z, Galaxy S, Galaxy Note, Galaxy A (S20/S10/W21/Fold2/Note20/Note20 Ultra/Note10/Flip/Fold/Fold2/A71/etc.)
Huawei Mate/Note (40/40 Pro/40 Pro+/30/30 Pro/7/7 Pro/7SE/etc.)
Google Pixel (5/4a/4/etc.)
LG V/G/K/Q (40/7/11 /6+/30+/etc.)
Other phones as long as size does not exceed 168mm (6.6 inches) x 8mm (3.3 inches)
With a 3,500mAh battery, HotDive can last your entire dive. It offers up to 100 minutes with continuous use of the fill light and up to 15-20 days without it. In terms of depth, you can use HotDive as deep as 80 meters. This is farther than what a GoPro+ shell (40M) and DIVEROID (60M) can offer. But is at par with Kraken products (80M).
The fill light is the biggest asset of HotDive since none of the other similar products have one. With its 800 lumen light, you can use it to create the best conditions to take amazing photos and videos. You can also use it while snorkeling at night.
Read more: Most Successful Tech Kickstarters [2021]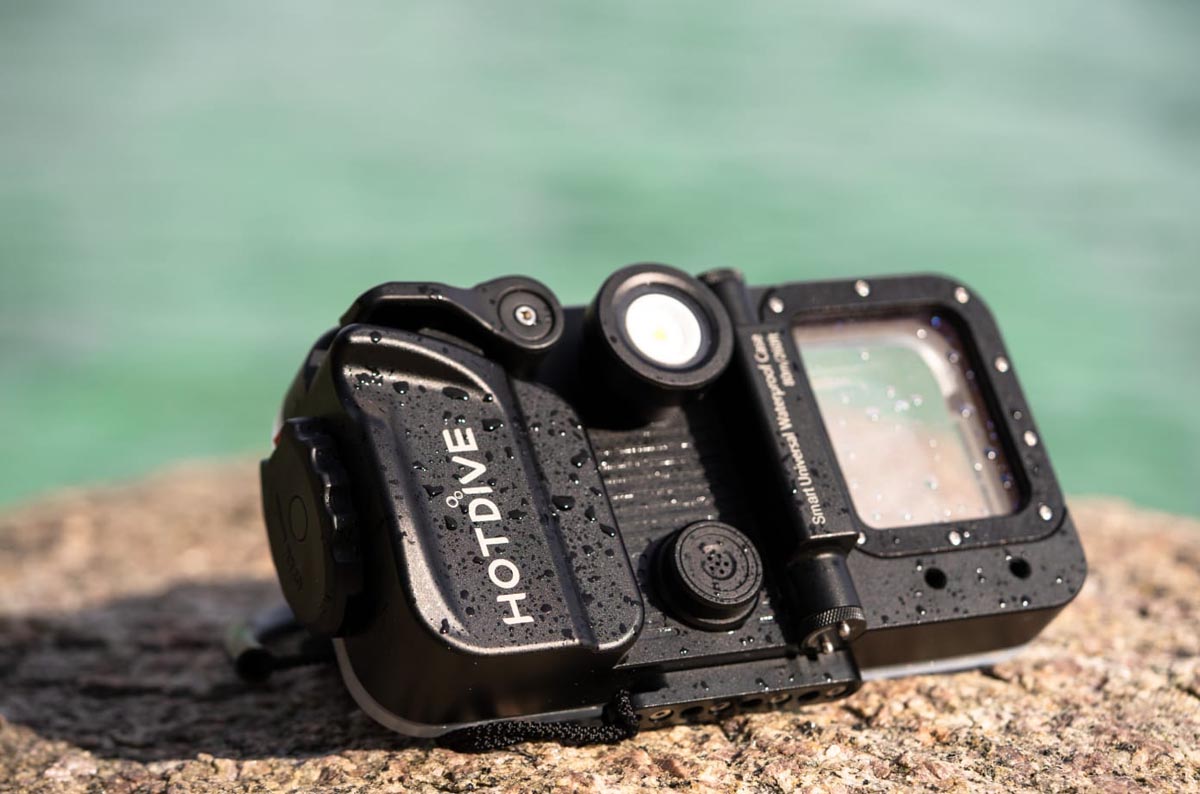 Aesthetics
HotDive looks very similar to Kraken. Both are made of aluminum and PC glass, making them solid and durable. Additionally, HotDive has a sealed structure design that prevents your phone from getting wet even if the battery runs out. The window for your phone's camera is also compatible with macro and wide lenses from local or online camera shops. Thus, giving you more possibilities for photography.
Final Thoughts
Overall, based on what we can see, HotDive is the perfect accessory to save you money, hassle, and space in your bag. Made to withstand the pressures, you can use it as deep as 80 meters without worrying about your phone's safety. Combining your phone's amazing camera with a convenient fill light, you can now capture breathtaking photos and videos of the underwater world through HotDive.
Buy HotDive on Indiegogo
Support this project to save money and support innovation from the world's best inventors!