There has always been a huge demand for wearable devices that improve workouts and exercises. So it's no wonder why many of the new health and fitness trackers coming out on crowdfunding platforms continue to enjoy success. There was Fitrus Plus 2.0, SPOTU, and WearMe, which we've all had the chance to review. And in a few days, another company hopes to join these successful campaigns with their launch of REPACE.
Summary
Is checking your heart rate and burnt calories not working out for you? Don't see the results you want after running day after day? Then maybe you need a new and more accurate running tracking device. If so, check out REPACE. It will give you a more efficient workout solution based on your health, endurance, and capacity. This way, you can stop aiming for your longest and fastest runs but still get the results you want.
Pros
Measures lactate threshold
Provides personalized fitness solutions
Rewards medals for motivation
Compatible with Apple Watch
Cons
Only ideal for treadmill and outdoor running
REPACE claims to be the "revolutionary scientific workout solution" because, unlike other fitness trackers, it measures your physical capacity through muscle oxygen saturation. Moreover, it is a device that you wear on your thighs rather than your arms or wrists. Pretty unique, right? Learn more about this new wearable device here and see if it's the fitness tracker for you.
Don't have time to read the whole thing? Click on any of the links below to skip to that section.
Overview
Fitness trackers allow you to keep track of your progress and see if your workouts are effective. They also help you make better and smarter choices, say if you need to intensify your workout or tone it down. Plus, since they already measure many of the important fitness-related metrics, they can prevent you from buying expensive professional medical equipment just to check your body. So it's no surprise why they're so popular and in demand.
The problem, however, is that most of the current fitness devices on the market can't accurately calculate your activity levels. This is because they are mostly worn on the arms and wrists while the actual active muscles are located in the thighs. Moreover, most fitness trackers focus on measuring your heart rate and burnt calories, which is great but not enough to provide more effective workout solutions.
To solve these issues, Obelab came up with REPACE. It is a fitness tracker that utilizes oxygen saturation levels, scientific algorithms, and data to provide you with a workout solution that fits your endurance and health. And unlike most wearable devices today, REPACE is worn on the thighs to give you the most accurate reading of your activities.
In terms of price, REPACE is surprisingly affordable – if you catch it on Kickstarter. With a starting price of US$249, it's cheaper than some of the top fitness tracking devices today, including the Apple Watch Series 6, Garmin Vivoactive 4, Samsung Galaxy Watch 4, and Polar Grit X. It's also a lot cheaper than Moxy, which is a similar wearable device that measures muscle oxygen. REPACE, however, is more expensive than the Fitbit Charge 5 and Coros Pace 2.
But take note that REPACE's original retail price is US$500. At this price, it's more expensive than any of the fitness tracking devices we've mentioned, except for Moxy.
Features
Lactate Threshold Test
Before, if you want to know your lactate threshold or your limit in terms of training, you'd need to see a medical expert, use special equipment, and draw blood. But thanks to REPACE, you can now measure your lactate threshold easily on your own without spending too much.
Personalized Fitness Solutions
Using your lactate threshold, REPACE will then provide you instructions for your workout based on your target. Do you want to lose weight, stay fit, or reach your maximum aerobic performance? Whatever you choose, REPACE will form a workout solution for you based on your needs.
Vocal Coach
REPACE can monitor your movements in real-time and provide you with vocal coaching to help you figure out if you're doing it right. This vocal coach will also guide you in reaching your goals and motivate you to keep running.
Medals and Rewards
To prevent you from feeling burnout and to keep you motivated in reaching your goals, the app will reward you with medals every time you workout or pass a test.
Community Features
As another way to make you feel motivated, REPACE is equipped with the Facebook Friends system to allow you to connect with your friends on Facebook and share your workout history. This way, you can find someone to work out with or maybe encourage your friends to start working out too.
Specs
| | |
| --- | --- |
| Dimensions | 1.24 in x 2.2 in x 0.61 in |
| Weight | 20g |
| Connectivity | BLE 5.0 |
| Battery | 3.7V 300mAh |
| Lifetime | 4 hours |
| Charging Time | 1 hour |
| Electrical Specifications | 3.7V |
| Frequency | 8.138Hz |
| Channel | 4 long channels + 2 short channels |
| LED Power | Under 5mW / wavelength |
| SmO2 Range | 15% – 95% |
| SmO2 Sampling Range | 1 sec |
| Wireless Charging Spec | 5V / 300mA |
| Motion Sensor | 6 axis |
REPACE focuses on a user's muscle oxygen saturation levels (SmO2) by using functional near-infrared spectroscopy (fNIRS). On the other hand, most wearable devices like the Apple Watch 6 and Fitbit Charge 5 measures blood oxygen saturation (SpO2).
Without being too technical, REPACE can give you a more comprehensive look at what happens inside your body when you work out. It can accurately measure the exhaustion levels of your muscles and allow you to see how your muscles are using oxygen in real-time. Furthermore, SmO2 is critical in figuring out warm-up, recovery, and intervals during a training session.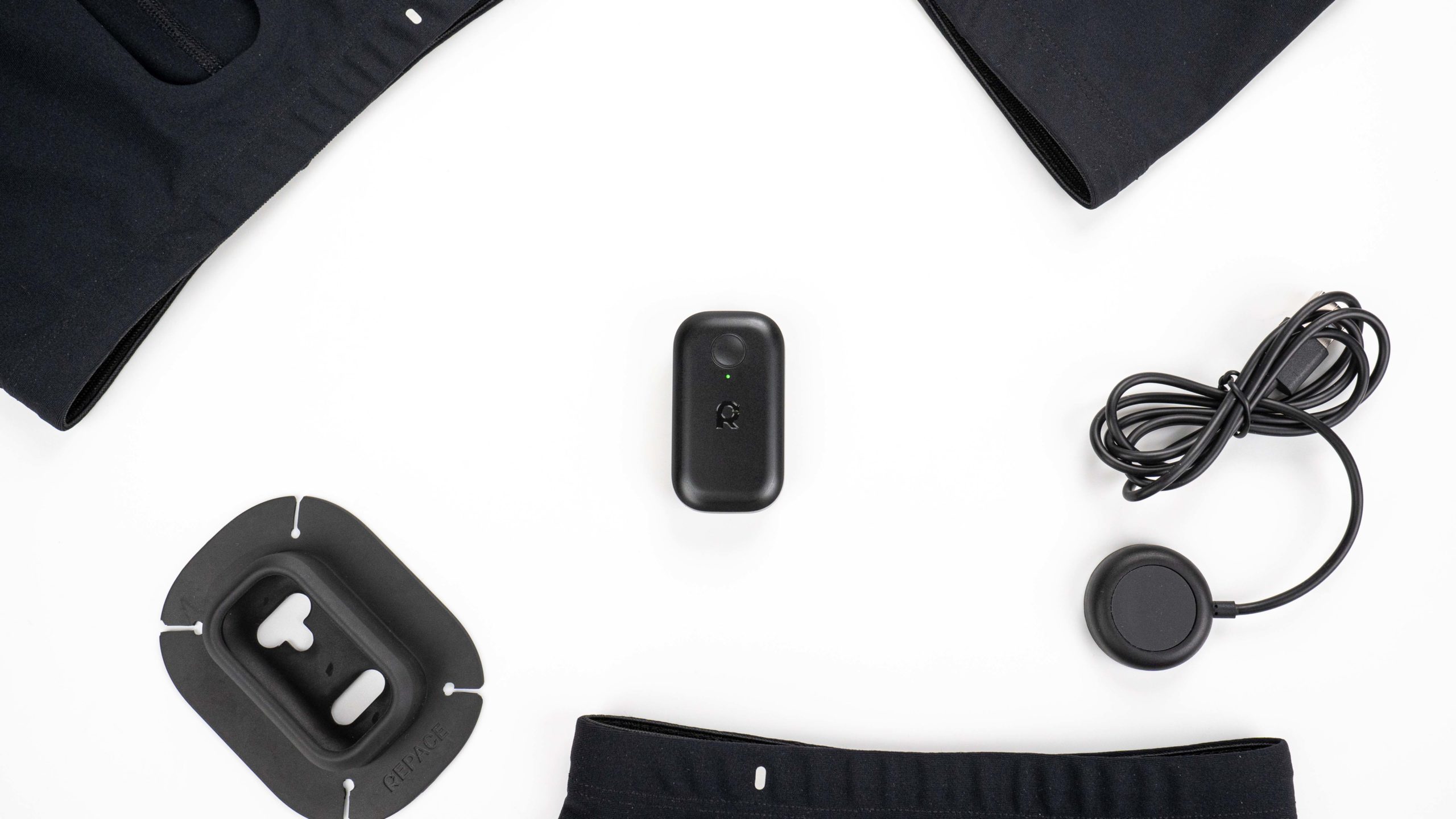 Aesthetics
REPACE is very similar to Moxy. They both come with a band and a holder that keeps the main device in place. They are also very small, so they won't get in the way when you're running.
The REPACE band is very elastic and breathable, which is a must to keep you comfortable. It also has an anti-slip silicone finish to make sure it won't fall off when you're working out. Plus, it's washable too.
Final Thoughts
Wearable devices that utilize oxygen saturation levels are hard to find, and those readily available are just downright expensive. This is because they are initially made for athletes and research. But thanks to REPACE, you now have access to this technology. On top of that, you will even get to know your lactate threshold without needing to see a medical expert and draw blood.
What's great about REPACE is that you can get the best results from your workouts without pushing yourself to the limit. Based on your endurance and health, the device and the app will provide you with a more effective workout solution. Meaning, you don't have to figure out what works and what doesn't in your routine. This also means that you'll be able to reach your goals faster.
For now, however, REPACE is only ideal for running. So if that's not your workout of choice, then this is not the fitness tracking device for you. But the good news is that the company is working and developing their device to soon support mountain climbing and cycling.