In a world gripped by portable technology, ergonomic laptop stands are a purchase worth serious consideration. If you've ever noticed your beloved grandma hunched over, remind yourself that she would have grown up in a much more active world – Yeah, we're screwed! 😂
Heralded as the mac daddy of ergonomic workstations, the Tiny Tower Laptop Stand burst onto the scene as an IndieGoGo project that surpassed its funding goal by over 400%. With a sleek design, superb versatility and height adjustment technology, there was no doubt that the Tiny Tower would be a huge success. But does this crowdfunding superstar offer enough value over much cheaper alternatives? Find out all you need to know in this comprehensive buyer's guide and Tiny Tower Laptop Stand review.
Time short? – Click here to see our Tiny Tower Laptop Stand review summary.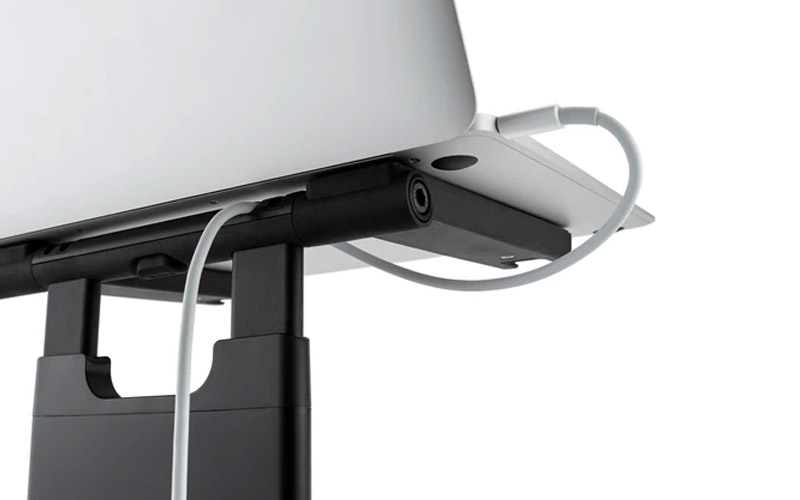 Product Design:
For all it's health benefits and clever functionality, the design of the Tiny Tower Laptop Stand is minimal. But that's what we absolutely love about it. One of our major pet hates with ergonomic laptop stands is that they often look mechanical. We get that you want to show off the fancy scissor arm extensions but seriously, pay some attention to the design guys! 🙄
Available in 4 beautiful colours (Classic Silver, Rose Gold, Space Grey & Gold), the Tiny Tower is far from mechanical and looks graceful no matter where you set it up. In fact, for those of you who use MacBook's when working on the move, the Tiny Tower will look like a natural extension of Apple's timeless design.
Suitable for use at the office, a local café or pretty much anywhere with a table or bench, the compactness of this laptop stand is critical. Overall, it's a quality product that stands tall amongst rivals.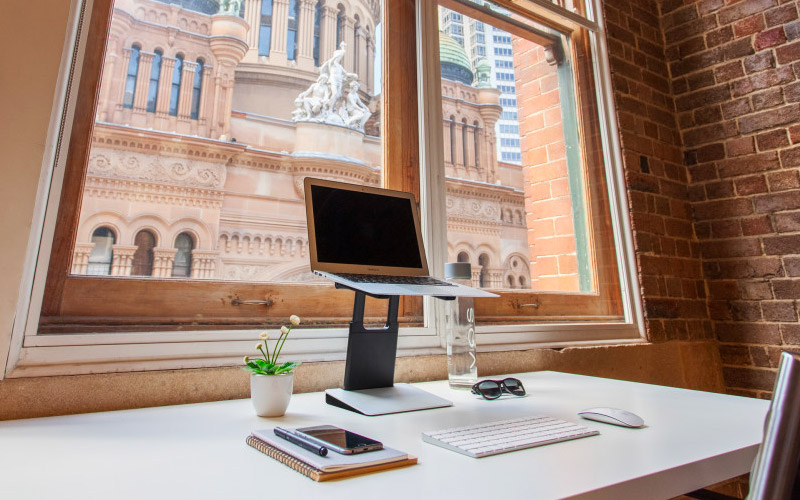 Mobile Ergonomic Workstation
The Tiny Tower is made from lightweight aluminium making for a strong, yet featherweight ergonomic laptop stand weighing less than 1kg. With its parts precision machined and anodized to deliver a superior and durable finish, the Tiny Tower Laptop Stand is the perfect blend of function and form.
The tower also utilises high grip and non-slip surfaces to ensure that your laptop is secure. It's clearly been designed to last long and look great. With its high portability and excellent structure, we really enjoyed every moment with the Tiny Tower. Often, when it remote workspaces, people would ask us about the product and where we purchased it from which tells you a lot about the design too.
In our changing work habits, mobile work has become a necessity, but it has come at the expense of our posture and wellbeing. While the versatility that laptops provide is great, ergonomically they are not ideal. The longer we spend on them, the more we hunch over, causing pain in our neck, shoulders and back. So having a work station that is portable is all the more important. The Tiny Towers ability to adapt to whatever height the table we were sat around is key to this success.
We certainly noticed less stress, muscle tension and easier breathing when using the Tiny Tower. Whether sitting down or standing up if you're using a tall table, it's nearly impossible to not be totally straight when you place the stand at maximum height!
For those of you have a steady office and do not need a Tiny Tower, we would highly recommend researching standing desks. Our friends at Updowndesk have put together a great comparison of standing desks in a recent article they published, which really will help inform any future purchase.
We really cannot say enough about the importance of an ergonomic work station. Working comfortably has a huge positive impact on your health and productivity. Check out this article on creating an ergonomic work station here.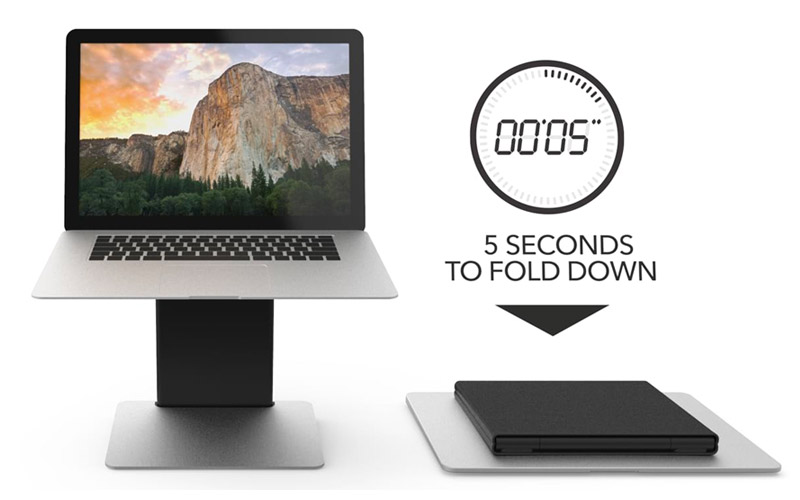 Tiny Tower Features:
Strong, stable and suitable for 11-15″ laptops, the Tiny Tower Laptop Stand is still a hot commodity despite being launched over 3 years ago. We're often on the move and having tested the Space Grey laptop stand, we were astounded by its versatility. With 17 different height settings, the Tiny Tower can be placed anywhere. This is a far cry from fixed ergonomic laptop stands that really suck if you go to a cafe that has low profile seating. Damn you and your interior designer!
As with any ergonomic laptop stand, you will want to accompany the device with a wireless keyboard and mouse. Else, unless you're standing up the ergonomic benefits are pretty useless. We thought it was strange that you couldn't purchase these accessories from the Tiny Tower store online. But that just shows that the company are dedicated to delivering just high-quality ergonomic gadgets.
The Tiny Tower also features an easy-to-use mechanism that allows you to support the weight of the laptop as you adjust the height. There's nothing more frustrating than when you have to adjust, sit back, test and then re-adjust again. Given that you'll be packing up the Tiny Tower as you move to another location, this feature, although simple, is an absolute blessing. Then there's the portability of the Tiny Tower Laptop Stand.
In two swift movements and a couple of seconds later, the Tiny Tower folds down into a compact portable device in just 5 seconds. It's light, easy to carry and tucks nicely under your arm alongside your laptop. The Tiny Tower also includes a protective sleeve with every purchase. If you're a collector of portable gadgets such as USB power banks you may also be able to squeeze these into the sleeve as well for safe keeping.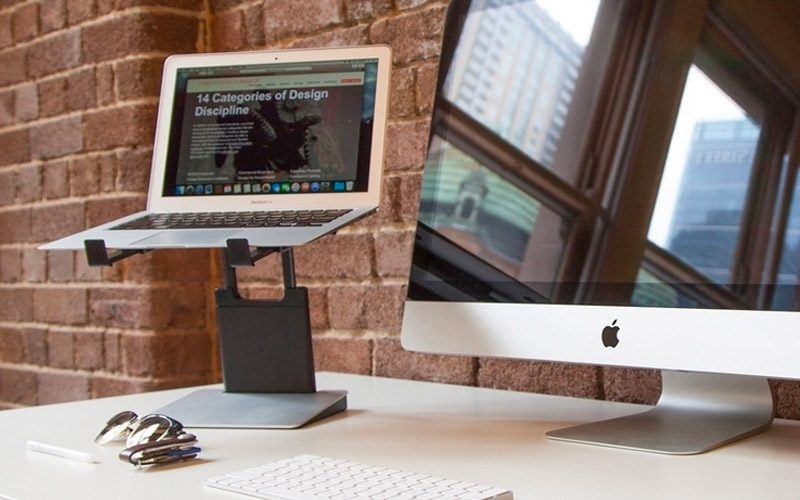 Price & Value:
At the upper end of laptop stands, the Tiny Tower is available online from $119AUD. Although you can purchase basic ergonomic laptop stands anywhere from $35, the Tiny Tower Stand is the mac daddy. From it's sleekness to its portability, it's nothing short of a premium product. Honestly, we would wait until you see one of the regular discounts as spending over $100 does seem excessive. There's no price on good health, however, you could save a lot of money and achieve the same result.
As for value, the varying heights and fast portability are where you'll gain the most benefit. What the majority of ergonomic laptop stands don't cater for is the varying heights of the chairs as you travel. When sat on a much lower chair, your entire posture changes and the Tiny Tower excels with its adjustability. Again, it's a great value product for your health and wellbeing.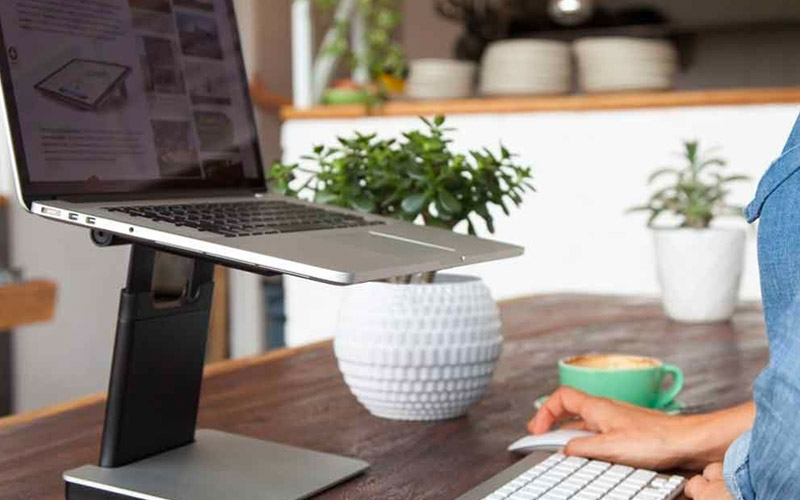 Tiny Tower Laptop Stand Review Conclusion
We've scored this Tiny Tower Laptop Stand Review a respectable 4.7 stars out of 5. You will see from our breakdown below that the product itself is fantastic but the price is a sticking point. The materials used lend towards a product that's both durable and portable. The best feature is, of course, the ability to adjust the height of the stand.
With a smaller footprint than your laptop itself, The Tiny Tower also leaves more room on your desk. This is great for surrounding your workstation with other items while maintaining a tidy environment with desk cable management solutions. Overall, if money is not a concern, the Tiny Tower Laptop Stand is an absolute must buy. For anybody who doesn't want to splash out over $100, there are other great alternatives such as the Twelve South Curve for Macbooks.
–

Tiny Tower Laptop Stand Review
Aesthetics

Features

Total Value
Summary
With a sleek design, superb versatility and height adjustment technology, there is no doubt that you will enjoy the Tiny Tower Laptop Stand. That's if you're willing to spend the money!
Pros
Adjustable Heights
Strong, Lightweight & Portable
Superior Design
Content Disclaimer: Our 'Tiny Tower Laptop Stand Review' is totally independent and has not been commissioned by the company. Mr Gadget has not received any endorsements for this writing. This includes financial reimbursement, free advertising or the Tiny Tower Laptop Stand by way of gift. We hope you enjoyed the article!