Headpop Focus Quick Review
Summary
The Headpop Focus may be one of the more expensive entries in its market, but it earns every penny on account of its innovative "Focus Mode', gentle silicone tips, exceptional storage case, and overall stellar build quality. If you're looking for a pore vacuum that puts your skin first, Headpop Focus is the one.
Pros
Focus Mode works wonders while taking extra care of your skin
Storage case is both stylish and functional
Overall minimalist design is very easy on the eyes
Built-in camera is incredibly useful for reaching tough to see spots
Cons
One of the pricier pore vacuums on the market
In the market for a pore vacuum but can't stand the bruised or damaged skin they often leave behind? The Headpop Focus aims to put your skin first by introducing a softer tip and an innovative vacuuming mechanism that'll help you get rid of blackheads and whiteheads while leaving your skin unharmed.
But are novel features enough to help this pore vacuum overcome some of the bigger names in the market? We're itching to find out in this Headpop Focus review.
Can't spare the time to get through the entire review? Just click any of the links below and we'll take you right to that section.
Overview
The Headpop Focus was developed by HAMAN Co. Ltd., a tech company that's been coming up with cutting-edge hygiene products for eight years and counting. Their entry into the pore vacuum market solves the main issue with many of its competitors which is the irritation and damaging of the skin due to rigid tips and overpowered suction.
It does this by opting for soft silicon tips that grip your skin tightly but gently and adding a special valve that alternates between contracting and relaxing for a less irritating experience without any compromise in suction power. It also comes with some amazing quality of life features, including a stylish and hygienic storage enclosure, wireless charging, a built-in camera, and more.
Features
Silicon Tips
Most pore vacuums use plastic tips that are stiff and rough on the skin, whereas the Headpop Focus utilizes a silicon variant that attaches to the skin in a way that's both firm and tender.
Focus Mode
While the Headpop Focus does come with a standard suction mode, what really sets it apart from its peers is its trademark Focus Mode. Instead of just providing non-stop suction, the device alternates between contracting and relaxing, thus mitigating irritation while still maintaining optimal power and sebum eliminating efficiency. It achieves this through its clever solenoid valve.
Built-in Camera
It may prove to be a bit too disturbing for some, but there's no denying that a camera built into the device can come in extremely handy for reaching spots that are difficult to see, such as the back of your ears or neck. The Headpop Focus' 3-megapixel camera allows you to effortlessly follow the device on your smartphone thanks to its excellent video quality.
Three Different Modes
The Headpop Focus offers three distinct modes of operation. The first one is the "Power Intensity & Control Mode" that's often found in other pore vacuums on the market. The second is the aforementioned "Focus Mode' that constantly alternates between suction and pausing.
Last is the "Wifi & LED Mode" which allows you to take a closer look at your skin with a magnifying lens without any suction. A LED light can be switched on and off whenever the need arises.
Three Tip Sizes
This pore vacuum includes three silicone tips, each with a different size. The smallest one measures 0.5mm and is mainly used for areas around the mouth, nose, and eyes. Next is the 0.7mm tip which was made for use on the T-zone which includes the chin, nose, and forehead. Finally, the 0.9mm tip is used to tackle larger holes which are often found on your cheeks or forehead.
Hygienic Storage System
Anyone who's familiar with pore vacuums knows how much of a hassle it can be to store the tips of your device. They usually come in cases that fail to secure them, causing them to roll around uncontrollably and cleaning them after use can be a pain.
With the Headpop Focus, you're getting a cutting-edge storage case that holds all your tips firmly in place and it includes a spot for your cleaning brush that'll help you clean out your tips without having to use a tissue or towel.
It doesn't stop there either, as the storage system comes with UV lights that turn on at the push of a button, disinfecting your tips and brush for the next use. To top it all off, the storage unit acts as a holder for the device itself, wirelessly charging it when you dock it on top.
Read more: Kube4 Wireless Speaker Review: Next Generation Portable Speaker
Specs
Pore Vacuum Dimensions
7.2" x 1.2" (18.288cm x 3.048cm)
Storage Dimensions
3.1" x 3.0" (7.874cm x 7.62cm)
Tip Size
0.9mm / 0.7mm / 0.5mm
Product Weight
Main Body 130g / Stand 116g
Colour
White, Gray, Red
Material
ABS
Camera Lens
3 Megapixel
Input Current
1.2V
Pressure Voltage
4.2V
Rated Voltage
4.2V
Operational Voltage
3.7V
Suction Pressure
Approximately 58 – 65kPa
Gear
Focus Mode (3 levels), General Mode (3 levels)
UV LED Available Range
UVA 3-3.6V, UVC 5-7V / UVA 390-420NM, UVC 270-280NM
Battery
3.7V / 1000mAh Lithium
Charging Port
USB Type-C
Charging Time
Around 3 hours
Battery Life
40 minutes at max mode
1-Time Usage Time
10 minutes before switching off automatically
Indicator Lamp
Green: Power on

Blue: Wifi connected

Flickering Blue: Wifi disconnected

Red: Battery Low

Flickering Red: Charging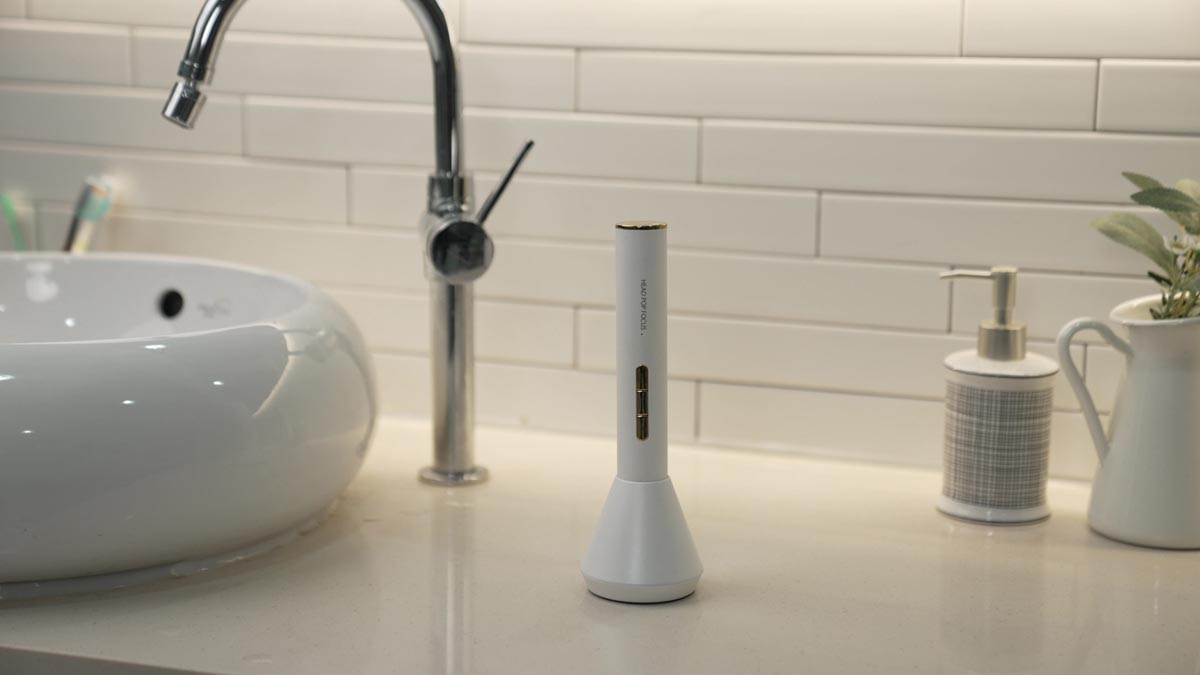 [wd_hustle id="160″ type="embedded"/]
Build and Design
Unlike most pore vacuums that tend to look like electric toothbrushes or razors, the Headpop Focus takes a sleeker and more refined approach. It's completely cylindrical in design that's angled slightly towards the top where the silicon tip is attached.
Its low-profile aesthetic works in its favour, doing away with all of the lights and screens commonly found in its competitors and instead going for a simpler three-button layout. The Headpop Focus comes in three different colours: white, red, or grey, and its cone-shaped charging base/storage case fits the overall aesthetic seamlessly.
As for its build quality, the device is made mostly out of acrylonitrile butadiene styrene (ABS) which is known for being a tough form of plastic that's highly resistant to impact and high temperatures, so you can expect the Headpop Focus to withstand its fair share of wear and tear.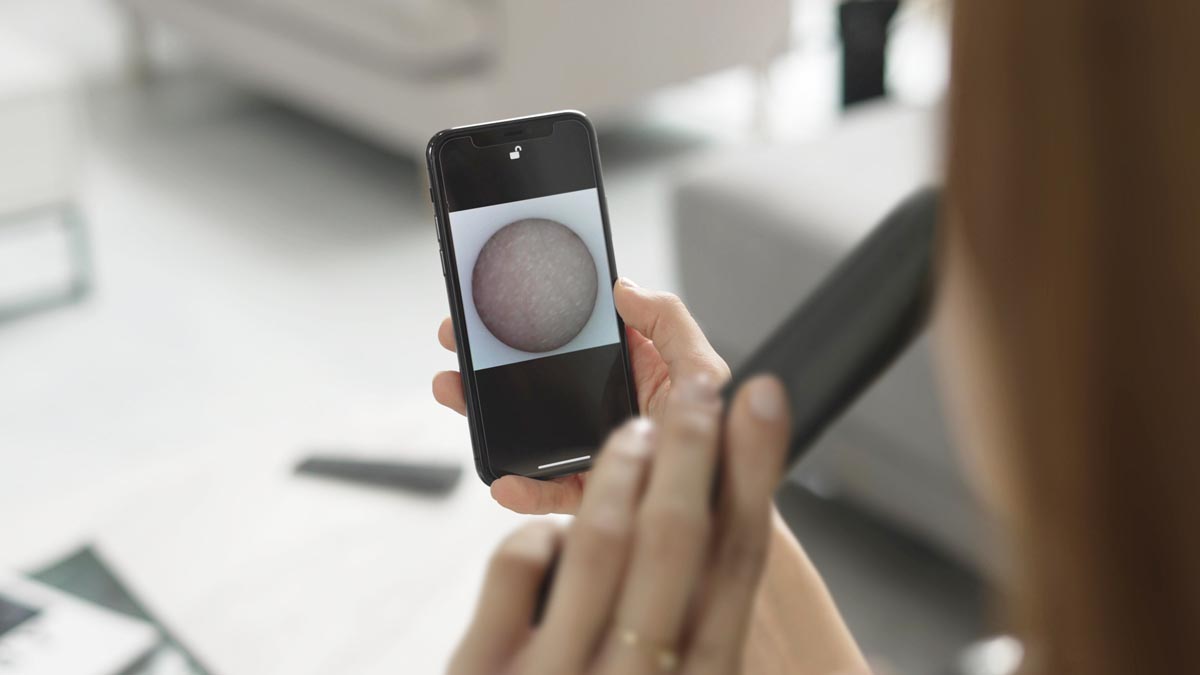 What's it like to use?
The simplicity of the Headpop Focus is one of its best features. There are three buttons along its side, one for each of its modes, and each of the suction modes have three power settings. The top button turns on the "Focus Mode", the middle one is for the "Power Intensity & Control Mode", and the bottom button switches on the "Wifi & LED Mode".
Pressing and holding any button for three seconds turns on the device in that specific mode while tapping any of the suction modes will ramp up its intensity. The storage case is equally easy to use, with its top opening up to show special slots to hold your silicon tips and cleaning brush, as well as a button that turns on a UV light for three minutes when pressed.
Headpop Focus running low on battery? Just stick the device into the slot on top of the storage case and itll start charging up wirelessly. Cleaning up is effortless too, thanks to the softer tips, cleaning brush, UV light, and dedicated storage space.
[wd_hustle id="160″ type="embedded"/]
Final Thoughts
The Headpop Focus banks heavily on its innovative features and it pays off in a big way. The solenoid valve is a game-changer that allows for a contracting and relaxing action that's far gentler and more effective than the usual suction modes. Add that to the soft silicone tips and you've got a pore vacuum that's just as concerned about your skin as it is about removing your white and blackheads.
There's also all the cool extra features that you're getting, like the stylish and functional storage case that comes with a UV cleaning light and acts as a wireless charging dock, as well as the built-in camera for those hard-to-reach spots.
All-in-all, the Headpop Focus offers one of the most effective and comprehensive packages of any pore vacuum out there, making it well worth considering. More for information, check out the Kickstarter campaign here.