Say goodbye to disorganized cables and extra hubs in your workstation and take a look at one of the fastest funded projects in 2021.
Since the internet has greatly impacted our lives, working from home has become a norm in most places around the world especially at the heat of this pandemic and the team over at TopWork has designed a solution for these trying times.
[wd_hustle id="70″ type="embedded"/]
The team has collected over $120,000 worth of funding which is way more than their intended target of $5,000. Here's what's in store for the future of mobile workstations.
The First 11-In-1 Type-C Hub
This isn't your ordinary laptop stand. TopWork gives you a lot of connectivity to maximize your productivity anywhere from the comfort of your home or even on the go.
Choose from a wide array of ports at your disposal. You can connect an ethernet cable into TopWork to have that peace of mind when it comes to having a stable internet connection. 
The 5 USB ports are enough for a gamer and workaholic to connect other devices: 2 USB 3.0, 2 USB 2.0, and a USB-C 3.1 Port PD that supports 100W charging for your USB-C powered laptops.
It also has a 3.5mm audio jack where you can connect your headsets for a comfortable online meeting experience plus SD and TF memory card slots which supports up to 256GB storage capacity at 480Mbps USB 2.0 speed.
The VGA and HDMI ports are also a good addition to TopWork which will give you the ability to connect two display monitors to further enhance your productivity. The VGA can support 1080p at 60Hz while the HDMI can support 4K at 30Hz.
A Sturdy Workstation That Also Has A 10W Wireless Charging Pad
The sturdy build of this portable workstation is enough to last you for years as it can support 17-inch laptops. Its four adjustable angles is enough to fit your needs whether you're sitting at a table or working on your lap. This workstation also prevents your device and your lap from overheating.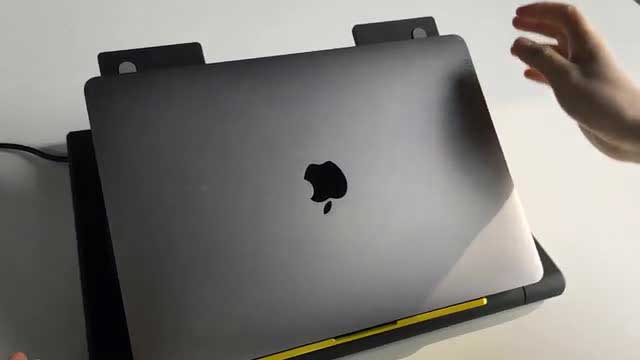 TopWork also included a retractable wireless charging pad for your earpods or your smartphone. Overall, the design of this workstation will turn you into a tech minimalist having all your ports in one convenient place.
You can grab this at Kickstarter using the link below starting at $89 and expect it to ship this coming April 2021.
[wd_hustle id="70″ type="embedded"/]