If you're often on-the-go and constantly require a reliable connection, relying on a hotel or your destination to have dependable internet is a recipe for disaster. More often than you realize, you may find yourself in a place with shoddy Wi Fi or none at all. That's what's so great about mobile Wi Fi routers like the Netgear Nighthawk M1.
CHECK TODAY'S PRICE HERE: See at Amazon
Design & Build

Features

Total Value
Netgear Nighthawk M1 Mobile Wi Fi Router
Despite being a couple of years old, the Netgear Nighthawk M1 Mobile Wi Fi Router is still the fastest mobile hotspot device sporting a 4G LTE connection. Speed isn't its only strong point, however. Its sleek and functional aesthetic mixed with a plethora of great features make it a great choice by any standard.
Its slightly larger size and steep price-point may turn off a few, and it hardly ever reaches the 1 Gbps download speed it boasts, but that doesn't stop it from being one of the all-around best 4G LTE mobile routers out there.
Pros
✓ Fastest 4G LTE mobile router around
✓ Allows up to 20 devices to connect simultaneously
✓ Gorgeous design
✓ Extra ports are a huge plus
✓ Doubles as a portable battery
✓ Solid battery life
✓ The screen is a nice touch
Cons
✗ On the pricey side
✗ Bulkier than most
✗ Ethernet port is input only
✗ Rarely ever reaches its potential speed-wise
These portable devices usually don't share the same bulkiness that home routers have and don't require cables or an outlet to operate, making them ideal for people who travel a lot. Similar to smartphones, they use SIM cards to provide a stable connection and an access point for all your devices, assuming of course that your mobile network provider offers good signal in the area. In this Netgear Nighthawk M1 Review, we're going to find out just how well Netgear's portable router holds up two years down the road.
Pressed for time? Skip straight to any of the sections of the Netgear Nighthawk M1 review by clicking on one of the links below:
What is the Netgear Nighthawk M1?
Netgear is a computer networking company that's been in business for the past 24 years. They're known for producing reliable, secure, and easy to use networking hardware directed at everyday consumers, service providers, and businesses of all scales. The NETGEAR Nighthawk M1 4G LTE WiFi Mobile Router (MR1100-NAS) – Up to 1Gbps Speed | Works Best with AT&T and T-Mobile | Connects Up to 20 Devices | Secure Wireless Network Anywhere is Netgear's 2018 entry to the mobile WiFi router market and was the first commercial device of its kind to achieve download speeds of up to 1Gbps.
The question remains, why use a mobile Wi-Fi router when you can just use your smartphone's hotspot instead? Well, first of all, mobile routers have their own batteries, so you won't have to constantly drain your smartphone of its charge. They also allow far more devices to connect to the network compared to the smartphone alternative.  If network security is a high priority for you, as it very well should be, mobile routers like the Nighthawk M1 feature superior security protocols for your safety and peace of mind.
Looks-wise, the Nighthawk M1 mobile router sports a sleek, modern design that wouldn't feel out of place in a gamer's list of gadgets.  Its good looks also come with the fairly hefty price tag of $349.99 (currently on sale for $299.99). While this is significantly more expensive than most other 4G  LTE devices, such as the $200 TP-Link M7350 V4 and the $189 Huawei E5771 Wi Fi PRO 4G, those devices don't quite match up to the M1's performance.
Netgear Nighthawk M1 Features
Despite being designed for travel and people on the move, the Nighthawk M1 is quite a bit bulkier than some of the competition with a length of 10.55 cm per side and a thickness of 2.035 cm. It's not the lightest either,  weighing in at 240 grams.  An upside to its considerable size is the inclusion of a host of cool extra features, like its impressive 5,040mAh battery. That gives you up to 24 hours of continuous usage and 500 hours of being left on standby. As an added bonus, the Nighthawk M1 doubles as a portable charger which you can use to keep some of your devices alive in a pinch.
Netgear's mobile Wi Fi router allows up to 20 devices to connect simultaneously and comes with various nifty ports, which include a USB A port, USB C port, and an ethernet port. It accepts microSD cards for some extra storage, though you'll have to open the device up and pop out the battery to get to the slot. The Type-A port also allows for more storage and connecting other gadgets for charging. The Type-C port can be used to tether your laptop or to charge compatible devices as well. The ethernet port is, unfortunately, input only. But more on that later.
Its stand-out feature is its blazing fast speeds, being the first mobile Wi Fi router capable of reaching download speeds of up to 1Gbps. Of course, hitting those speeds is another matter entirely and depends solely on the performance of your network provider. Netgear made it clear on their website that the Nighthawk M1 can be unlocked to support all SIM cards.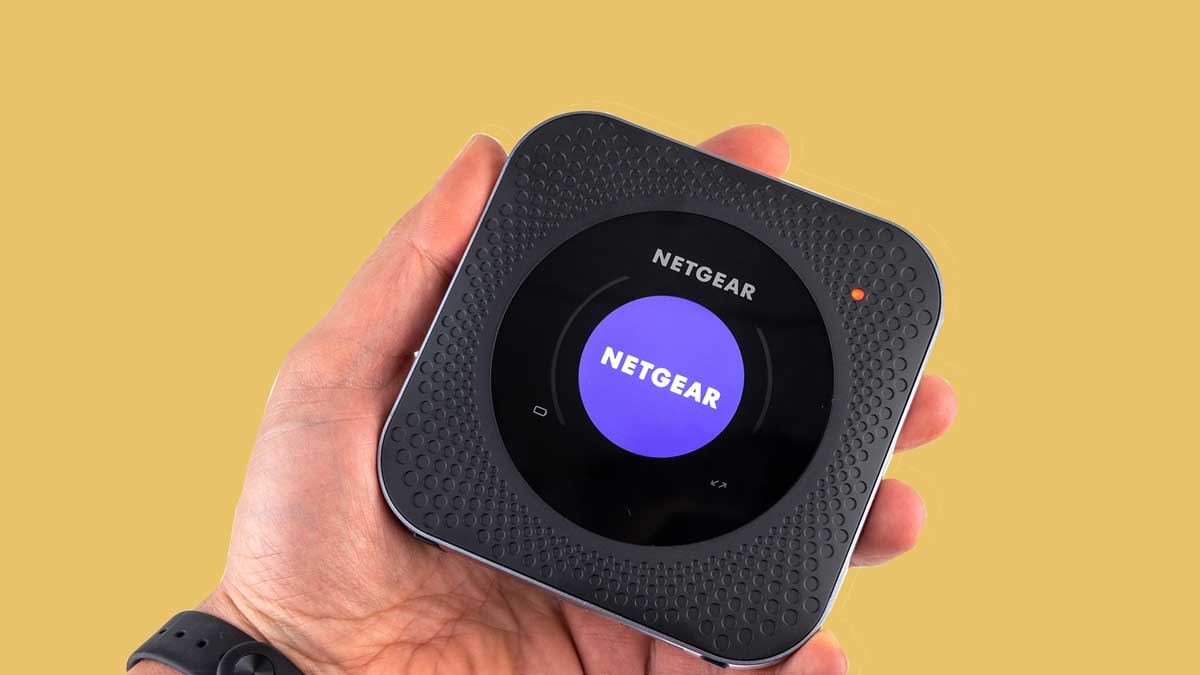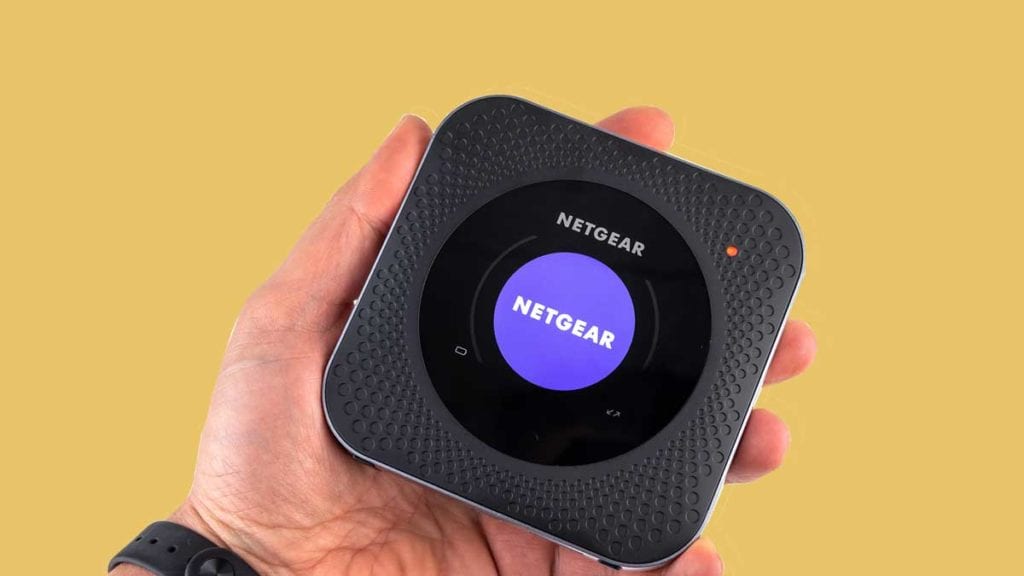 Netgear Nighthawk M1 Specs
| | |
| --- | --- |
| Dimensions | 10.55 x 10.55 x 2.035 cm |
| Weight | 240 g |
| Connection Type | 4G LTE |
| Max allowed simultaneous connections | Up to 20 devices |
| Max Speeds | 1 Gbps download, 150 Mbps upload |
| Chipset | Qualcomm MDM9x50 |
| Wireless standard | Wi Fi 802.11 b/g/n 2.4 GHz |
| Ports/Slots | 1x USB Type-A port, 1x USB Type-C port, 1x Ethernet port, 1x microSD slot |
| Battery Capacity | 5,040mAh |
| Battery life | Up to 24 hours of continuous use and 500 hours on stand by |
Design
Netgear did a great job with the Nighthawk M1's aesthetic, opting to veer away from the thinner, rectangular shape that the majority of its competitors use, and going with sort of a flattened cube-like design with rounded edges.
In the centre of the device's face lies its round multicolour display which is surrounded by circular etchings, giving it a nice modern, ergonomic feel.  Its USB A, USB C, and Ethernet ports sit along one of its sides, while the microSD slot can be found inside the router itself.  All-in-all, it's a simple yet striking look that manages to remain very functional.
What's it like to use?
One of the Nighthawk M1's strengths is how easy it is to use. All you have to do is fire it up then navigate to its web interface to set up your passwords and SSIDs, among other things. You can also download Netgear's app (available on both iOS and Android) where you can configure limited settings and access some handy features.
If you were hoping that the M1's cool-looking display is touch-screen, you're going to be disappointed. It's a regular display that has 3 different screens that you can scroll through using the device's power button. You really won't be interacting much with the router itself beyond that. Though the different information displayed on-screen come in pretty handy.
Perhaps the M1's biggest question mark is the half-hearted inclusion of an ethernet port. It would have been amazing if it allowed you to output a wired internet connection to your PC or laptop from whatever mobile network you have in your SIM card slot. Alas, it's input only and its sole function is to establish a Wi Fi connection from an existing wired one whenever you turn on Travel Router mode. This feels like a huge missed opportunity on Netgear's part.
Conclusion
The Netgear Nighthawk M1's killer looks coupled with its host of awesome features just add to what makes it so great. It may not be the most compact router of its kind, but it's the added bulk that allows it to have its smart display and extra USB and ethernet ports.
That and the stellar 5,040mAh battery that can also be used to charge your other devices when needed. Netgear did drop the ball when they made the ethernet port input only, but it certainly isn't a deal-breaker. While it never really reaches its 1Gbps potential (though that's mostly due to the mobile networks), the Nighthawk M1 remains the fastest 4G mobile hotspot around, and one of the best overall if you can afford its heavy price tag.
FAQs
No, the Netgear Nighthawk m1 is nit locked to Telstra and can be used with other ISPs.
Last update on 2022-05-15 / Affiliate links / Images from Amazon Product Advertising API
Yes, the Netgear Nighthawk is a brilliant portable hotspot that delivers excellent performance.
Last update on 2022-05-15 / Affiliate links / Images from Amazon Product Advertising API
Last update on 2022-05-15 / Affiliate links / Images from Amazon Product Advertising API