With 4 successful Kickstarter campaigns under their belt, Orbitkey continues to prove that there's a huge need for practical and functional solutions to keeping an organised lifestyle. Starting with its key organiser in 2013 then to the more recent Orbitkey Nest in February 2020 and the new Orbitkey ID Card Holder, the company has been designing and offering great products that we love. And with the Orbitkey Desk Mat, it's no different.
Orbitkey Desk Mat Review
Look Station

Features

Total Value
Summary
If you are looking for a sleek, stylish, and functional accessory that can optimise your workplace then the Orbitkey Desk Mat is a great choice. With its features and benefits, it's definitely worth the price. 
Pros
✓ Very stylish
✓ Magnetic cable holder
✓ Document hideaway
Cons
✗ Artificial leather
✗ Pricier than most desk mats
Launched in Kickstarter on July 15, 2020, the Orbitkey Desk Mat is Orbitkey's latest offering for keeping you more organised and tidy. Its goal was only $10,000, but it received more than $515,000 by the end of the campaign. That's 5,618 people who trusted the product. And it's no surprise since the mat certainly looks promising. So what makes the Orbitkey Desk Mat different from others, and why was it such a big hit? Find out below. 
Don't have time to read our whole Orbitkey Desk Mat Review? You can click any of the links below to skip to that section:
Orbitkey Desk Mat Overview
Whether it be in an office or at home, working on a messy desk can be very distracting. Loose wires, paper, pens, gadgets, and accessories can easily clutter through the day, making it difficult for most of us to focus. Thus, we become inefficient and unable to finish our tasks for the day. Clutter can distract you, hinder your creativity, slow you down, and cause you stress. This is everything that the Orbit Key Desk Mat aims to solve.
A well-designed desk mat can become a crucial element in your workflow, ensuring that everything has a place, making working that much easier. It also provides you with a perfect surface for using a mouse and keyboard, or a graphic design tablet. Now, you can achieve all these with a regular desk mat, But if you want to take it to another level and have a mat with some clever tricks up its sleeve, then the Orbitkey Desk Mat is a better option.
In terms of price, the Orbitkey Desk Mat is a little pricier compared to most other desk mats around. Offered at a retail price of $65 USD for the medium unit and $85 USD for the large, this is one of the most expensive mats. However, this increase in price comes improved materials, design and utility.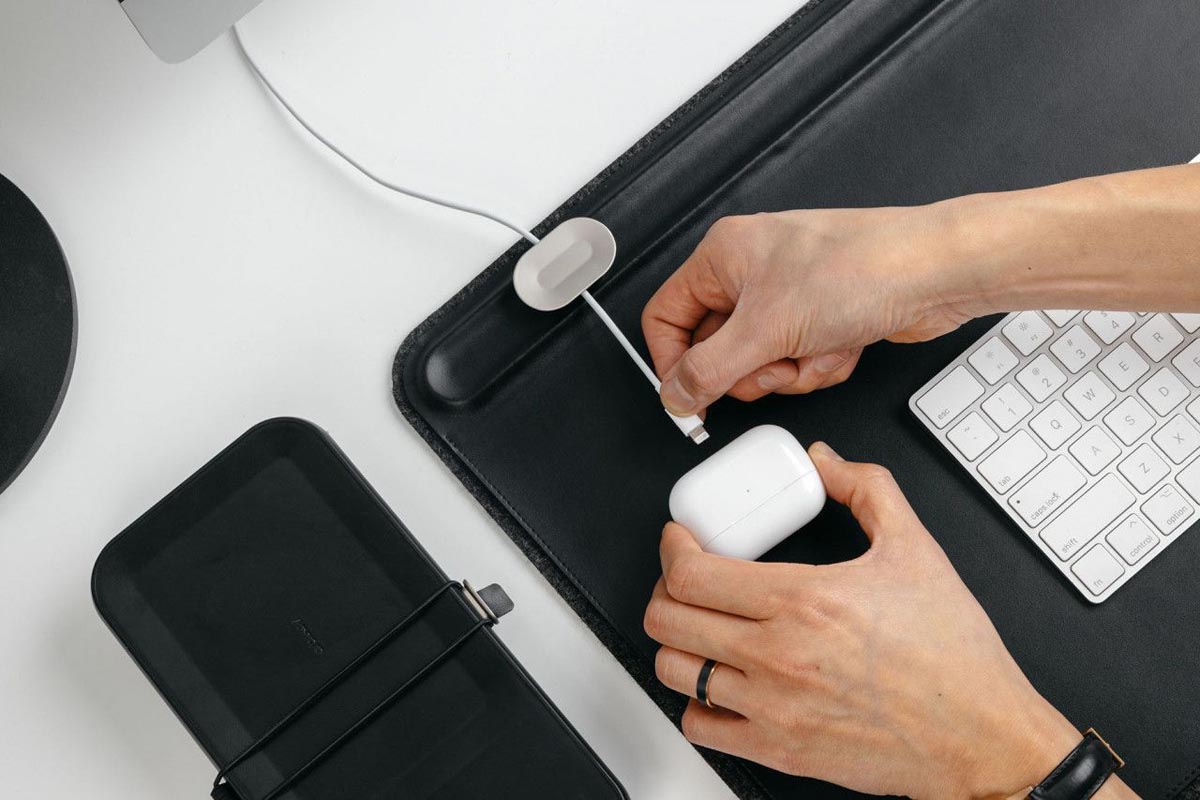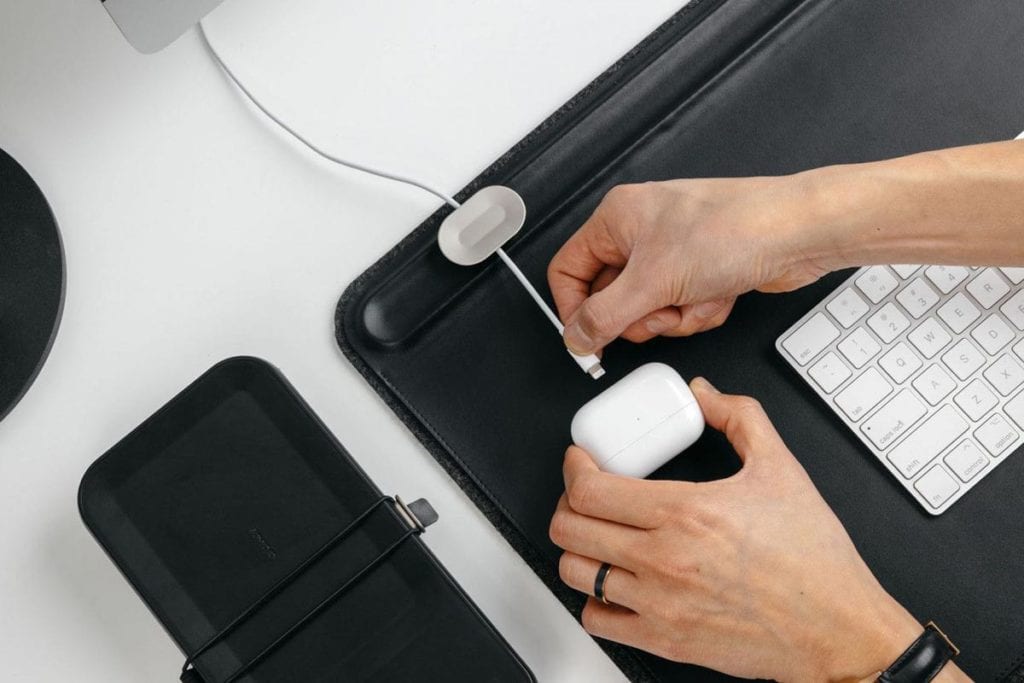 Features
Orbitkey's newest offering is a clever accessory that can provide the desktop cleanliness most people are looking for. But with its built-in organisational features, it surpasses most average desk mats. Let's look at these features closer below. 
Document Hideaway
Underneath the top layer, there's a place where you can hide the loose paper and notes on your desk. This is a great feature that prevents you from misplacing documents or having them pile up around you. With this, you can conveniently keep everything out of sight. It's like sweeping dust under the rug! This space also allows you to easily access your papers and notes whenever you need them.
Toolbar
This desk mat has a space dedicated to small items such as a pen, pencil, marker, tablet stencil, and other accessories you need quick access to. With these important items having their own space on your desk, you can avoid rummaging your drawer or bag just to find them. 
Magnetic Cable Holder
We particularly love this organisational feature since we tend to have our wires and cables all over the place. They can get tangled, fall off the desk, and get in the way. If you're like us, then you would love this magnetic cable holder too. It can hold your cables in place while still keeping them within reach. On top of that, you can move it anywhere along the toolbar, depending on what's convenient for you.
The Look Station
One of the biggest advantages of the Orbitkey Desk Mat over the others is its design and overall aesthetics. With a sleek and clean look, this mat provides your workspace with elegance and style. It's simple and subtle, but it also looks very professional. Who knew such a humble accessory can make such a big difference, right?
Made with vegan leather, this desk mat is water-repellent and can be easily wiped clean. Thus, it can effectively protect your desk from spills, stains, and scratches. This product is also available in black and stone.
Specs
Now, this wouldn't be much of an Orbit Key Desk Mat review without the specs, right? So here's what you need to know about this accessory. 
Dimensions

Medium: 680 mm X 370 mm

Large: 890 mm X 420 mm

Cable Holder Material

Zinc Alloy

Top Layer Material

Polyurethane (PU) Leather

Interior Material

100% Recycles PET Felt
The medium mat can fit a computer keyboard or a 15-inch laptop with a mouse comfortably. On the other hand, a large desk mat can fit all those and still have enough space left for a tablet or an A4 paper. Now, Orbitkey's medium desk mat is bigger compared to other popular mats such as the Satechi Eco-Leather Deskmate. Also, the large unit is shorter in width but longer in length than the well-known Dacasso Classic Mat. So in terms of dimensions, the Orbitkey doesn't fall short. 
However, in the top layer material, we did notice that the company held back a little with their "vegan" leather. Unlike their previous products, the Orbitkey Desk Mat is a mere PU leather. Meaning, it's artificial. So it can't really last as long as true leather. 
Now, to be clear, we do believe that artificial leather has come a long way and some products look just the same as genuine leather. However, after our Orbitkey Nest review and key organizer review, we already have a certain expectation of the company using only premium materials. After all, these two products do feature top-notch leather materials – with the Nest having genuine leather and the key organizer with top-grain leather. We're guessing they had to choose a cheaper fabric to offer the product at a cheaper price. Of course, that's just our assumption.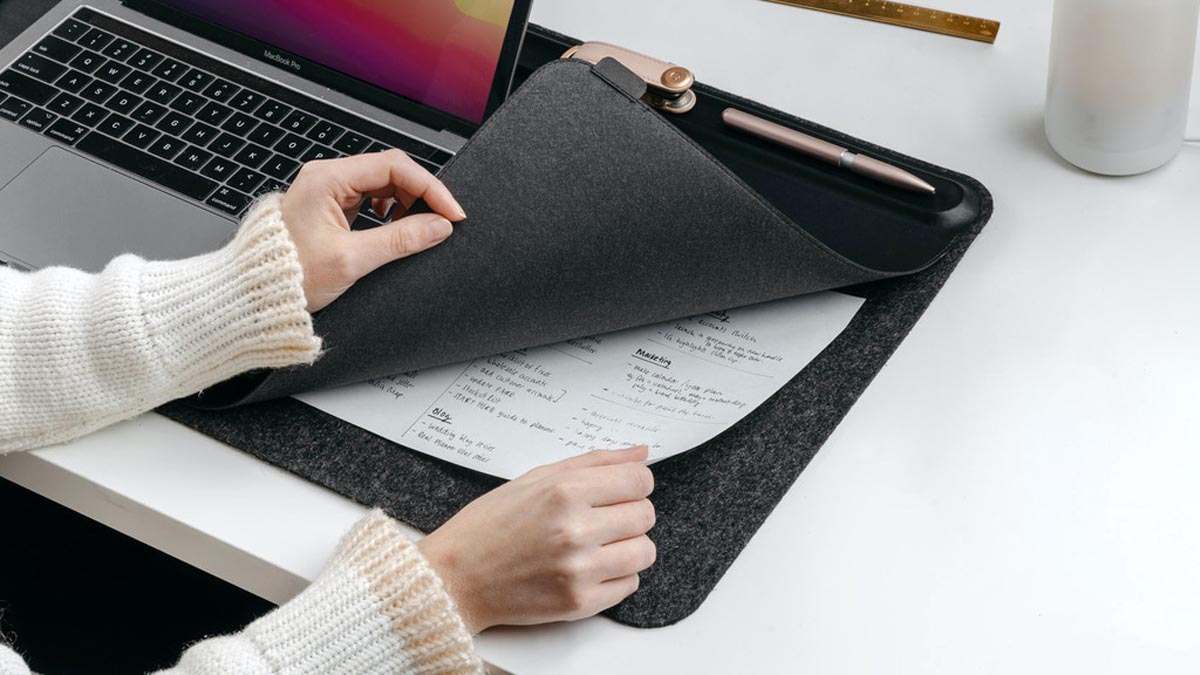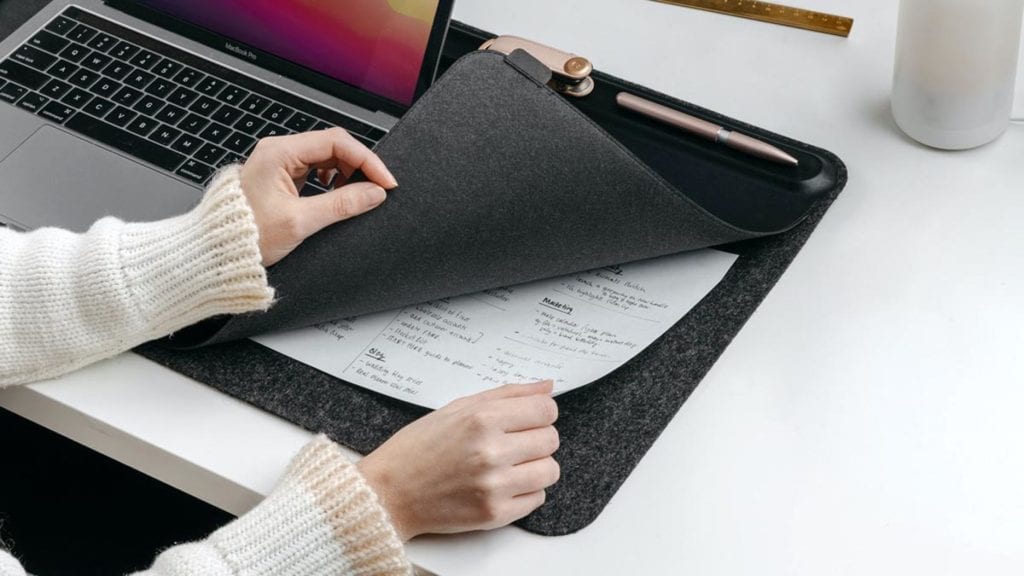 What's It Like to Use?
The Orbitkey Desk Mat is incredibly easy to use. You can just put it on top of a desk and do your work. It's that simple. However, unlike other desk pads, the Orbitkey has organisational features that provide the most convenience to its users. From the magnetic cable holder to the toolbar and the document hideaway, everything is essential and practical. You can create your own workflow that compliments the Orbitkey Desk Mat's features.
Additionally, when you purchase this desk mat, it automatically includes 1 magnetic cable holder. However, if you need to keep hold of multiple cables, this might not be enough. The good thing is that the company offers an add-on option. So, you can add another cable holder for $12 each. 
Buy the Orbitkey Desk Mat here
Final Thoughts
The Orbitkey Desk Mat can help you be more mindful of what you are keeping on your desk, which helps reduce cluttering. This helps you focus and be more productive while working. But what makes the Orbitkey Desk Mat unique is its organisational features, which make it practical, functional, and most of all, effective. And that concludes our Orbit Key Desk Mat review.