Welcome to our Amazon Echo Dot 3 review. This is where we take the time to review smart tech so you don't look dumb with a bad purchase. The Amazon Echo Dot 3 – Alexa Smart Speaker (Gen 3) is the best selling speaker of all time (according to Amazon) and in our opinion is also one of the best smart speakers on the market.
Yes, for the low price (non-promotional price) of just $79 (AUD), you get something that will probably exceed your expectations. It won't replace your home theatre speakers but it might just do the job while you're in the shower and want to listen to some tunes. You can also ask it tell you jokes on a cold Monday morning to cheer you up! The Amazon Echo Dot 3 could be the perfect introduction to making your home a smart home.

The Design
It still kind of looks like a hockey puck but the Echo Dot 3 has rounded the edges on the top and bottom surfaces to lessen the similarity.  As a result, it looks a lot cleaner than the previous two iterations. The material finish around the outer edge gives off a fresher look and the impression of added durability (time will tell). It comes in three colourways, Charcoal, Heather Grey and Sandstone shades giving you an option to match it with your interior.
Across the top of the outward edge, there is a blue ring of light which owners of other Alexa-based devices will be familiar with. It looks pretty cool and serves the function of letting you know Alexa is ready and waiting for your command.
Simplicity has always been a mainstay of Amazon's design philosophy and the Amazon Echo Dot 3 follows suit. The top of the smart speaker has a simple design with 4 buttons allowing you to control volume up and down, microphone mute and to summon the mighty Alexa herself. In addition, there are 4 microphones placed on the outside of each button.
You can activate Alexa using the aforementioned button with a simple press or by saying "Hey, Alexa". Either of these actions will trigger the blue light letting you know she's listening. Although this is not groundbreaking in any way, it has a nice satisfying 'wake-up' and keeps in line with the simplicity Amazon likes to imbue into its products.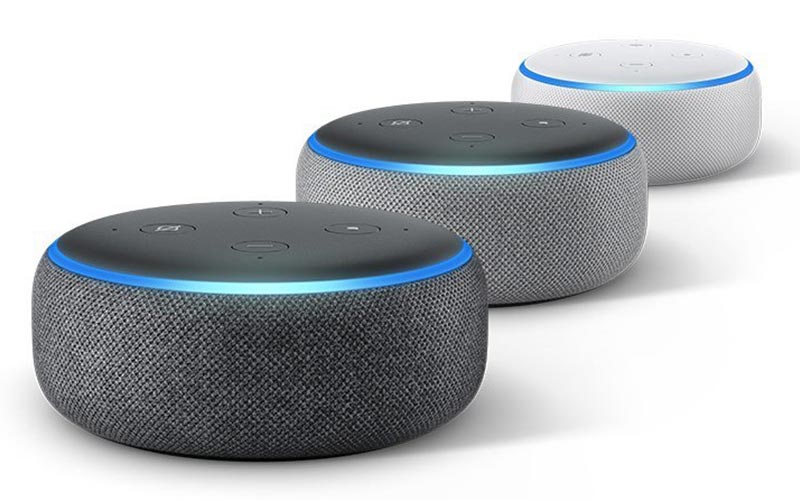 What's It Like To Use?
Overall, you get what you expect from a budget Amazon smart speaker. Alexa voice assistant is getting better with each update. The sound quality is a massive upgrade from the previous version, which sounded a bit like a child's walkie-talkie. The build quality is now at a point where it feels satisfying to touch.
Smart speakers are so versatile and can be used in so many different ways it's hard to nail down what it would be like to use for everybody, but if you're in the market for quality, yet entry-level smart speak, look no further and read on further.
The Setup
Again, simplicity. Setting up the Amazon Echo Dot 3 is easy as pie and nothing like having to jailbreak fire sticks from Amazon. There are two set-up journeys depending on if you already have an Alexa-enabled device or if you're brand new to Amazon's range of smart devices.
I already have an Alexa Device
If you're already partnered up with Alexa is some form, then you should simply be able to add the new device to the Amazon Alexa app. You'll already be familiar with the app, so I'll save you some time.
I'm new to Alexa set-ups (help me!)
Short and sweet instructions below:
Download Amazon Alexa App
Plugin your Amazon Echo 3 Dot and wait for the ring of blue light to turn orange. Alexa will kindly inform you that she is ready to be hooked up to your home
Connect the device to your Wi-Fi network via the app. The Echo Dot 3 will guide you through this process.
That's it! Congratulations you now have your very first Amazon-branded smart speaker to help you around the home!
We tried both methods of set-ups and both were incredibly easy to do and intuitive. Surprisingly for a Wi-Fi connected device, there were no hiccups and it found our networks almost immediately.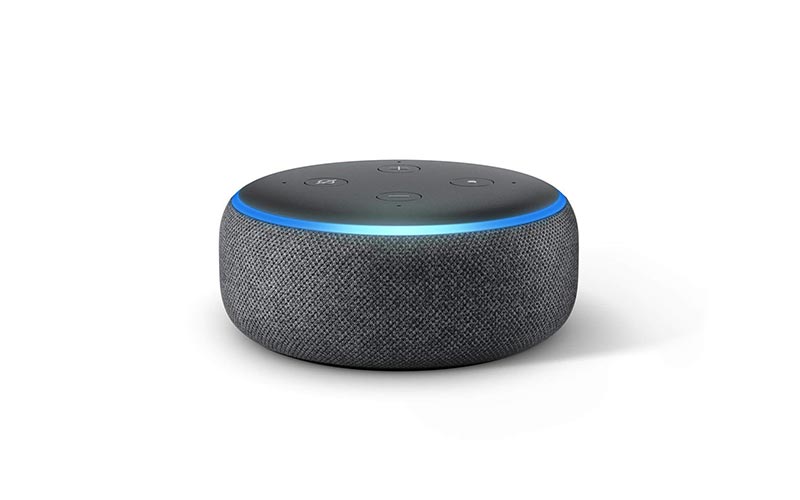 Day To Day With The Amazon Echo Dot 3
The set-up is one thing, but how does this smart speaker fair when reviewed over time within a real-world environment. In our Amazon Echo Dot 3 Review, we thought we would test it out in our office as it is generally a noisier environment which provided a more robust testing environment.
The first thing we wanted to review was the Amazon Echo Dot 3's ability to differentiate between different peoples' voices. We have an office of 12 people with varying qualities of music tastes, but we wanted to give people an equal opportunity to DJ throughout the day. To do this we had to set-up multiple user accounts. Once set-up, the device had no problem understanding different voices, which isn't groundbreaking in the world of smart speakers but is new functionality for Alexa specifically, bringing it on par with Google Home.
The quality of the speakers is preeeetty good! This is a budget speaker so bear this in mind, but it has a surprisingly full sound and is a massive upgrade on the Dot 2! We tested a wide range of music types and although none of them could be enjoyed to their fullest, none of them was unlistenable either.
–
What else can Alexa do?
Well, it turns out Alexa is a smart cookie, who's getting smarter by the day! Alexa's abilities (known as 'skills') largely depend on what other smart devices you have hooked up to your home or office. We don't have too much automation in our office, but we do have smart LEDs in some of desk lamps. Once we had set-up the connection The Alexa Dot 3 did a fantastic job of communicating in a satisfyingly timely manner and turning our office into a disco-tech.
We didn't have any other smart home devices to hook it up to but based on the large and ever-growing variety of smart home devices, the Dot 3 and Alexa in general, is a safe bet.
As for Alexa's own in-built functionality, we were very impressed!
"Alexa, what's the weather like tomorrow?" returned an informative and quick response which let us know to bring an umbrella.
"Alexa, play some disco music" pulled through some great disco classic from Spotify and asking Alexa for translations of words into other languages was for some reason an incredibly fun office team building activity.
All in all, this device will be able to do more than you expect with simple and annoyance-free set-ups.
–
The Amazon Echo Dot 3 Review Verdict
We were very impressed with this little guy. It packs a pretty good punch sound-wise, feels robust, has intuitive set-ups and ultimately is very cheap for a device that solves so many of life's little problems. We would absolutely recommend that you consider checking one out for yourself.
–
Aesthetics

Features

Total Value
Amazon Echo Dot 3 Review Summary
The Amazon Echo Dot 3 is an excellent choice for those looking for a bit more smarts in their speakers. Alexa herself is getting smarter and the sound is much improved over the Dot 2. For the price, you will struggle to find a more functional device. We would highly recommend this device to those who are new to smart speakers or have a smart home and want to make it a little more connected.
Pros
Affordable
Great Value For Money
Looks Good
Sound Quality Is Good For Price
Cons
Questionable Privacy
No internal battery
Occasionally misinterprets homophones
Amazon Echo Dot 3 FAQs
The Amazon Echo Dot 3rd Gen is will answer your questions, play music, read the news, set a reminder and control compatible smart home devices.
Yes, the Echo Dot 3 uses a Wi-Fi connection to access the internet. The Dot 3 now supports 802.11ac, increasing the connection range if you use 802.11ac router and a 5GHz network.
No. You are able to use all of the Amazon's Echo Dot 3rd Gen's features for free. However, if you have Amazon Prime you are able to play Amazon Music for free.
Content Disclaimer: Our 'Amazon Echo Dot 3 Review' is totally independent and has not been commissioned by the company in any capacity. Mr Gadget has not received any endorsements for this writing including financial reimbursement, free advertising or the Amazon Echo Dot by way of gift. If you purchase this item via an affiliate link on our website, we may receive a small commission from the seller. We hope you enjoyed!