The DeathAdder V2,  a gaming mouse from Razer that is so light, it's as if nothing's there. It's packed with features that gamers can utilise to get a more fluid experience.
In this Razer DeathAdder V2 review, we will examine why the DeathAdder line has been so effective and popular among gamers. We will compare them with other mice in the industry to see if this is a good purchase. It may be called a gaming mouse, but just how good of a gaming mouse is it?
CHECK TODAY'S PRICE HERE: See at Amazon
30 Second Review: Razer DeathAdder V2
Design & Build -

8.2/10

Features -

8.6/10

Comfort -

9.1/10

Total Value -

8.7/10
Razer DeathAdder V2 Summary
The Razer DeathAdder V2 is an excellent gaming mouse. Grab it if you are in pursuit of the fastest, sleekest, feature-filled mouse. Or if you want a gaming mouse that is durable, reliable, and can be used by a variety of grip types. With the amount of software and hardware improvements that Razer crammed into the V2,
Having the premium experience isn't cheap. The DeathAdder V2 on Amazon.com is at USD 69, similar to the official Razer site. Meanwhile, the Elite is also available on Amazon, but at a lower price.
If you really want the best performing mouse in the market, this Razer DeathAdder V2 review says you won't go wrong with the V2. The feats of engineering that went into the mouse justifies its hefty price tag. But if you are content with "good enough," it's okay to hold on to previous DeathAdders.
Pros
✓ 20,000 CPI sensor
✓ Optical click sensors
✓ Very ergonomic
If you're squeezed for time, then jump ahead to the different sections of this DeathAdder V2 review:
Overview
The V2 is the 20th edition of the DeathAdder gaming mouse from Razer. It launched as Razer's first right-handed gaming mouse in 2006, which sold 1 million units in 2010. Nine years later, Razer said it has sold more than 10 million DeathAdders.
Known for its durability, ergonomics, and speed, people who needed the most reliable mouse turned to the DeathAdder. Razer believes in the saying, "if it ain't broken, don't fix it." It hasn't changed the shape of the DeathAdder since 2006, which is beneficial for those upgrading from an old Death Adder.
But for those switching from a different brand, the feel in the hand will be the first notable thing about the V2. There are two things that are responsible for this: build quality and flexibility. It has improved the physical components of the V2, ranging from the left and right mouse buttons, cable, and scroll wheel.
Razer also changed the technology inside the V2. It now uses an infrared light instead of mechanical switches to register clicks. The speed of the cursor has been greatly improved on this ambidextrous mouse. You can customize buttons on the mouse to make it easy for you to use, whether you're right- or left-handed.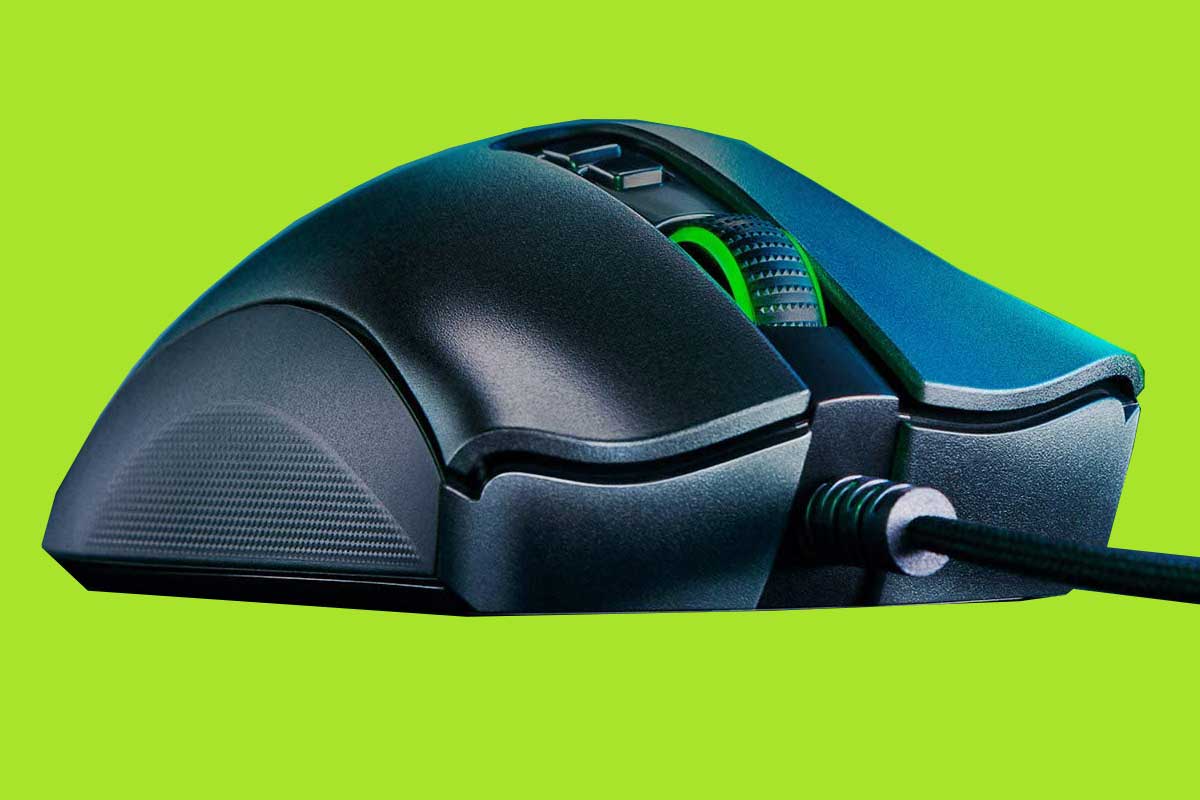 Features
The DeathAdder line has come a long way. V2 is now capable of 20,000 dots per inch (DPI) thanks to its new optical sensor, "Razer Focus+."  The DeathAdder V2 has three times more DPI than the DeathAdder Essential, which has only 6,400 DPI.  This gives the user flawless tracking, regardless of how fast the mouse moves.
V2 is the optimal mouse for first-person shooters thanks to its customizable counts per inch (CPI) and incredibly high polling rate. Polling rate indicates how many times a mouse reports its location to the computer per second. If polling rate is set to 1,000Hz, the mouse will be reporting its location 1,000 times per second every two milliseconds
Razer hasn't changed the shape of the DeathAdder since 2006. Weighing at 82 grams, the V2 is light enough but still has heft so the user can still feel the mouse in their hand. Unfortunately, it is only for right-handed gamers.
But the mouse is not just for gaming. It is also for everyone who needs a reliable, multi-button mouse that can be used for productivity programs, such as word processing and video editing. The mouse can be used with a claw, palm, and fingertip hold. However, users with small hands may struggle with a claw or fingertip hold. This gives the DeathAdder V2 extra versatility because users can adjust to the mouse immediately.
The DeathAdder V2 may not be as feature-packed as the Razer Basilisk V2, but it can certainly hold its own. And with a cheaper price tag, it's arguably better value for money.
Overall, the DeathAdder V2 answers everything a gamer needs: comfort, speed, utility, and customizability. Developed by a company known for creating gaming peripherals for more than a decade, it gives the user unmatched control in their game.
Razer DeathAdder V2 Specifications
| | |
| --- | --- |
| Acceleration | 50G |
| Cable | Razer™ Speedflex Cable |
| Max DPI | 20,000 |
| Mouse sensor | Focus+ Optical |
| Tracking speed | 650 inches per second |
| Weight | 2.9 ounces or 82 grams |
| | |
You can do quick and rapid gestures all day long with the V2. The Focus+ Optical sensor delivers up to 20,000 DPI, making it one of the most responsive computer mice. It won't get tiring to use, since the V2 can accommodate all types of grip. But if you have small hands, you may have to look elsewhere because the V2 is longer and wider than traditional computer mice.
Acceleration is measured in G's. This is the maximum linear acceleration that a mouse is capable of, which is usually from 15 to 20G. Since the DeathAdder V2 is a gaming mouse, it has a faster acceleration count at 50.
Coupled with the mouse's extreme agility is one of the highest DPIs. It measures the sensitivity of the mouse — the higher the amount, the more responsive it becomes. Changing DPI will adjust the speed of the mouse pointer, which you can take advantage of for productivity tasks such as word processing and multimedia editing.
Software isn't the only thing that makes the V2 glide seamlessly in the battlefield.
At 2.9 ounces, you'll barely notice that you're using a mouse. This is advantageous for gamers who do not use a mouse pad. The V2 won't be difficult to move around, which the surface can contribute some level of difficulty to. It makes the mouse easy to use on any solid surface because of its fast tracking speed, including those that are not ideal for mice use, such as leather and glass.
With all the components together, the V2 feels just as responsive to click. Even though it has an infrared sensor, which is less reliable than mechanical switches, the chances of committing misclicks are slim because of its speed.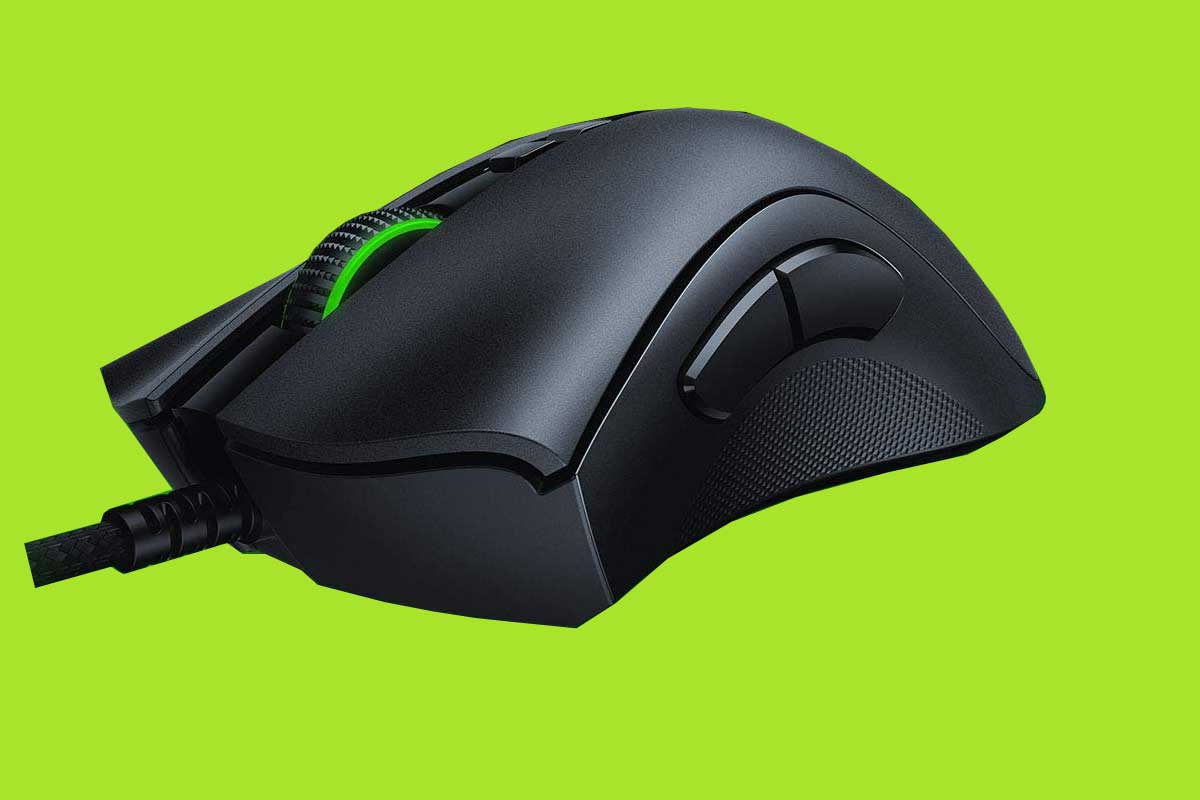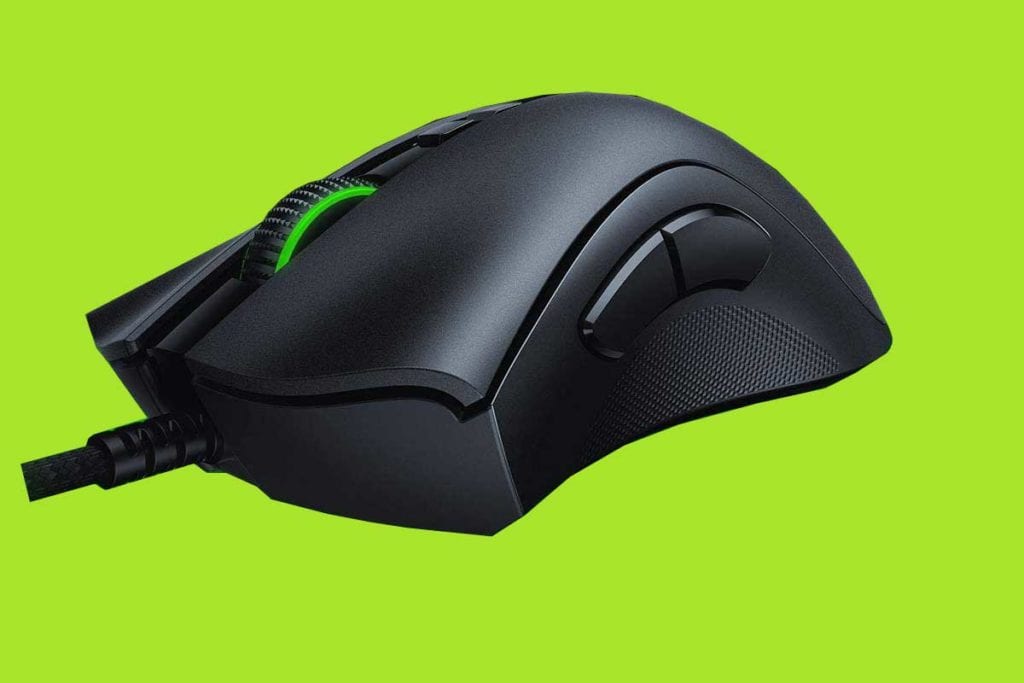 Ergonomics
The V2 still has the familiarly grippable DeathAdder shape. It may not be for small hands, but Razer has alternatives. It has a matte black topcoat that makes it less slippery. But underneath the mouse, its legs are made of PTFE, a slippery material used to coat non-stick frying pans.
Mouse sensitivity buttons have a wider gap than the Elite, which is separated by a piece of plastic. However, the side thumb rests have less separation and are raised buttons from the panel.
There is a button on the base of the V2 that lets you switch between custom profiles. This includes sensitivity and RGB lighting. You can set this up when you're signed into Razer's Synapse software.
What's it like to use?
The first notable difference between the V2's predecessor, the DeathAdder Elite, is build quality. Everything about the V2 is robust. From the cable to the left and mouse buttons and the scroll wheel, the V2 feels solid.
You won't worry about roughing up the V2 because its materials can hold up. The left and right mouse buttons are graded for 70 million clicks—20 million more than the previous model. Slide it with minimal effort and have a higher degree control thanks to the Speedflex Cable. And with feet made from PTFE, the V2 can take you places without making it a struggle.
It's also less of a struggle to configure the V2. You can store up to five profile configurations on the mouse and bring it to any system. Razer Synapse 3 makes everything easy for you, including setting up RGB lights.
Last update on 2022-05-15 / Affiliate links / Images from Amazon Product Advertising API